A cream or ointment for the treatment of heel spurs should have three therapeutic effects: anesthetize, relieve inflammation and allergy symptoms. Most often, doctors prescribe local drugs, which contain either steroidal or non-steroidal anti-inflammatory substances. They are most effective in combating bouts of pain and inflammation.
Plantar fasciitis (or calcaneal spur) is a degenerative inflammatory disease of the tendons, muscles and ligaments. After some time, inflammation provokes the growth of spurs in the calcaneus. More often they suffer from the female gender.
Treatment with ointments must necessarily be comprehensive, while local preparations of different composition are used to enhance the therapeutic effect. It is necessary to strictly comply with all the doctor's prescriptions, not to miss a single dose of medication.
Non-steroid drugs
Nonsteroidal anti-inflammatory drugs are ointments from heel spurs based on various non-hormonal substances:
Indomethacin ointment, Indovazin (commonly used drugs for calcaneal spur);
diclofenac – Voltaren, Diklak, Naklofen, Diklobene and others;
ibuprofen – Dolgit, Brufen, Ibutop gel, Nurofen gel, etc.
The above ointments have a similar principle of action. Actively used against heel spurs. Preparations containing NSAIDs, quickly and easily stop the pain syndrome, relieve the inflammatory process, and ease the patient's condition. The course of treatment with such funds is usually 2-3 weeks of continuous use of funds. During the first week, fasciitis disappears a little, and health improves.
Hormonal drugs
Creams and ointments for calcaneal spurs with steroidal active ingredients are very effective, as they quickly relieve pain attacks in a short time. Basically, they are prescribed in extreme cases, when other remedies no longer help. Hormone-containing drugs have a number of contraindications and warnings, they can often cause several side effects, because of this they must be used very carefully and only after prescribing by a doctor.
Most often prescribed prednisone ointment and hydrocortisone, which is considered the most effective. Such ointments are prohibited for children, nursing mothers and women in position. You can not have them with many diseases of the internal organs. With heel spur, only dosage forms for external use are used and in no case inside.
The ointment consists of a synthetic glucocorticosteroid hormone. In addition to relieving inflammation, these substances eliminate itching and swelling. You can not use such drugs against heel spurs, if there is inflammation of a different nature, bacterial or fungal infections of the skin.
Heel spurs are often not treated with hormonal ointments, but glucocorticoids are used as injections into the fascia itself. The effect of such treatment is higher and lasts longer. The effect of these funds is quick, so do not get carried away with them. Frequency of use – apply up to 5 times a day on the heels, course – no longer than a week.
Regenerative stimulants
They help in the fight against salt formations on the bones of the foot. This group includes drugs Arthrin, Mucosat, Chondroskid – all in the form of ointments and gels. The mechanism of action of these funds is to stop hyperplasia of the connective tissue, in addition, to reduce spurs on the calcaneus. Gradually, the elasticity of the fibers of the cartilaginous tissue and tendons is restored. Pain attacks go away.
The course of treatment with such drugs is 2–5 weeks. They treat inflammation a couple of times a day. Plantar fasciitis begins to pass 14 days after the start of treatment.
Other drugs
Plant and animal based agents against heel spurs also help. They are effective in the initial stages of development of education, as well as in combination with other means.
Krok-Honey balm is a modern ointment for calcaneal spur, created on the basis of plant and animal components. It is specially designed to remove heel spurs. Bile and anthrax extract enhances metabolism in the tissues of the foot, improves blood circulation, stimulates resorption of formations, relieves pain, tea tree oil has a disinfecting effect, there is a feeling of discomfort in the heels, and the walking process is facilitated. Apply the ointment 2-3 times a day, after steaming the feet in saline. When treatment takes place, it is worth:
limit motor activity;
switch to medical shoes;
purchase orthopedic insoles.
Cream from calcaneal spur Bischofite – the name is known to very many. The basis of the product is the natural mineral bischofite, it is mined in the Poltava region of Ukraine. This component consists of a large number of various minerals and magnesium salt. Bischofite affects calcium metabolism, and due to this, growths resolve (the well-known fact that such formations are calcium salts).
The cream helps relieve inflammation, anesthetize, eliminate discomfort and swelling. It is considered the best treatment for heel spurs. General condition improves significantly. The tool not only eliminates the symptoms of the disease, but also the root cause of the disease. Under the influence of bischofite, spines are destroyed. Cream:
heals cracks in the skin;
eliminates roughness;
corns.
The skin is gradually regenerated, it becomes soft and velvet.
In addition to such a cream, there is also a gel that differs in composition. In addition to bischofite, it also contains algae, as well as other auxiliary components.
Cream Heel Shpor – 15 g of cream is packed in special jars. Ingredients: medical bile extract, essential and fatty oils, glycerin, extracts from medicinal plants. Apply this tool 1-2 times a day on clean skin, gradually rubbing it.
Cream Ortho-Tiger's eye – the composition contains beeswax, burdock extract, lilac, hazel, horseradish, glycerin and castor oil, lemon and juniper essential oils. The components of the cream soften the skin, contribute to the process of regeneration of cracks, relieve the inflammatory process, soothe, pass discomfort and pain in the feet.
Apply the cream several times a day, be sure to carefully rub it into the affected area. During treatment, you should also wear comfortable shoes with orthopedic insoles. The course of treatment lasts from 1 to 4-5 weeks.
SpurNet cream – this drug is suitable for both treatment and prevention of spurs. It contains mummy, extract of burdock, clover, amaranth, essential oil of tea tree. After use, inflammation, pain, itching passes.
Apply it 2-3 times a day to the affected area. The course of treatment is from 12 procedures.
Kontraktubeks – ointment contains allantoin, heparin, Serae onion extract. All components of the drug contribute to the crushing of spurs, tissue regeneration. Treatment may last several months. It is applied a couple of times a day, actively rubbing into the area of ​​the spurs. You can make a bandage with the drug at night, for this, the area is treated with cream, an airtight bandage is placed on top, fixed with medical tape.
It is recommended to carry out baths with the drug. For this, warm water 36–38ºС is poured into the container, then cream is added at the rate of 2 cm per 1 liter of water. Immerse your feet in water and hold for 10 minutes. Then apply a healing cream.
Dimexide gel – perfectly treats heel spurs. The active substance is dimethyl sulfoxide. It improves metabolism in tissues, removes toxins, reduces pain, has a local anesthetic effect. It penetrates deep into the skin, which helps other medicinal substances easily enter the foci of inflammation. Important: the drug may cause allergies.
Dolobene is a combination ointment for heel spurs. Dimethyl sulfoxide relieves the inflammatory process, has an antiexudative effect, anesthetizes. Heparin reduces inflammation, stimulates the restoration of connective tissue, improves local blood flow. Dexpanthenol improves metabolic processes in tissues, contributes to their speedy recovery. The gel is applied to the affected area and rubbed into the skin. The procedure should be carried out 2-4 times a day on clean skin. You can use the gel as a compress.
Plantar fasciitis is also treated with drugs with extracts of Cinquefoil and golden mustache.
Recommendations for the use of ointments
Heel spur ointment can be used only after plantar fasciitis is qualitatively softened in hot water.
Water should be as hot as possible. Thus, soft tissues will become malleable, will be ready to take active ingredients. The ointment is not just smeared, but rubbed thoroughly.
For 7 days of the course, the ointment is applied three times a day. This week is basically enough to alleviate the patient's position, relieve symptoms. But this does not mean that you can stop treatment. You just need to reduce the frequency of using local drugs to once a day. The course of treatment for heel spurs with local drugs usually ranges from 10 to 14 days.
Ointments for calcaneal spur: the most effective ointments for different stages of the disease
Heel spur is a disease in which a bone spike-spur grows on the heel, causing pain and discomfort to the patient.
With heel spur, various pharmacy ointments are shown to reduce inflammation and eliminate pain.
A good ointment for the treatment of heel spurs helps to dissolve the bone spike and has a set of useful qualities.
When choosing an ointment, it is necessary to take into account its composition, purpose, the possibility of prolonged use and cost.
How to use ointment to treat heel spurs?
An ointment for fasciitis is usually prescribed by a doctor, but knowing the characteristics of each remedy, you can independently choose and buy a cream for spurs, which is especially important at the initial stage of the disease.
Pharmaceutical ointments have many advantages:
ready for use;
contain safe substances;
passed clinical trials.
Most external spur remedies sold in pharmacies and stores are affordable and have a minimum of drawbacks. In composition, all ointments are divided into: hormonal (steroidal) and non-steroidal.
By rendered action: anti-inflammatory, warming painkillers, absorbable. As a rule, good ointments combine several effects.
Before using the ointment from the heel spur, the name of all the funds will be listed below, you need to familiarize yourself with the following recommendations:
Nonsteroidal drugs can be applied 2-3 times a day. The duration of the course is 1-2 months. Steroid preparations can be used no more than 2 times a day, and the treatment course should not last more than 2 weeks.
To increase the effectiveness of any external remedy for fasciitis, before applying it, it is necessary to steam the feet in the foot bath or make a compress. Medical bile helps with calcaneal spur in the form of a compress.
After applying the cream, you must wait 1-5 minutes until the funds are completely absorbed. And only then can you put on socks or slippers with heating and go about your business.
Cream based on herbs and natural ingredients can be used constantly. This is not only useful, but also an effective prevention of recurrence of fasciitis.
To obtain the best result, it is advisable to change the ointment: in the acute stage of the disease, use one external agent, during the recovery period – another, for prevention – the third.
Treatment with ointments must be combined with taking pills, physiotherapy and unloading the heel with the help of insoles, shock absorbing heels and Strutz arch supports.
After applying ointments before bedtime, it is recommended to wear a Strasbourg sock. The product fixes the fascia in a longitudinally extended position, which contributes to their regeneration.
Regular use of the Strasbourg sock at night speeds up the healing process and helps get rid of morning pain caused by spike pressure.
Effective ointment for calcaneal spur in the acute stage
With exacerbation of fasciitis, the heel becomes inflamed, the spike causes severe pain. The ointment against heel spurs used during this period should have an analgesic effect and at the same time soften the bone growth.
Shishkevich Vladimir, orthopedic and traumatologist, project editor-in-chief ExpertNews.

I have been treating joints for many years. I can say with confidence that the joints are always treatable, even in the very ripe old age.

Hondrostrong is an innovative drug that is created to combat joint diseases. It helps with arthritis, arthrosis and other diseases. Thanks to the use of cream, joint mobility quickly returns. Damaged cartilage tissue is regenerated, which prevents the further development of the problem.

Our medical center was the first to receive certified access to the latest drug for osteochondrosis and joint pain - Hondrostrong. I confess to you when I heard about it for the first time, I just laughed, because I did not believe in its high efficiency.

But I was amazed when we completed testing: 4567 people were completely cured of diseases of the organs of the musculoskeletal system, and this is more than 94% of all subjects. 5.6% felt significant improvement, and only 0.4% did not notice any improvement.

Hondrostrong cream allows you to forget about back and joint pain in the shortest possible time, literally from 4 days, and even very difficult cases can be cured within a couple of months. In addition, the manufacturer of this product is now offering a 50% discount of the full cost of Hondrostrong cream.
1. Indomethacin
The composition includes dimexide, nipagin and painkillers. This tool has an anti-inflammatory effect, effectively eliminates swelling and pain. The course of treatment is 1 month, during which Indomethacin is applied three times a day.
The advantages of this tool include a low price and the absence of side effects. Of the shortcomings, patients note the absence of a resolving action – the drug does not reduce the bone spike.
2. Diclofenac
A very strong ointment with a quick analgesic effect. Doctors recommend the use of diclofenac only in extreme cases, when other drugs do not help reduce pain.
Duration of use – no more than 7 days. At the same time you can apply no more than 5-8 gr. the drug.
3. Hydrocortisone or prednisone
Hormonal drugs used to reduce inflammation and growth. These topical preparations are used as an alternative to blockade of the inflamed fascia.
Ointments have many contraindications and side effects. It is not recommended to use them for more than 5-7 days in a row. The best analgesic effect is achieved in combination with phonophoresis.
4. Vishnevsky ointment
Everyone knows, inexpensive and affordable tool. The drug relieves inflammation, which leads to a decrease in pain. The disadvantages of the ointment are: a minimal analgesic effect, a sharp specific smell, and no effect on the spur.
This tool is especially suitable in the presence of abscesses near the oblique spike.
5. Pyatkashpor Reinforced
Today it is the best ointment for heel spurs. It has an excellent absorbable effect due to the presence of natural medical bile in the composition. Unlike many other therapeutic ointments, Strengthened Pyatkashpor can be used for a long time until the spur is completely eliminated.
The cream actively moisturizes, is quickly absorbed, reducing inflammation, swelling and pain. This ointment is part of the Pyatkashpor creams line, which were created specifically to combat fasciitis and its manifestation – bone growth.
Also during an exacerbation of the disease it is very important to properly unload the foot, reducing pressure and shock loads on the inflamed fascia.
Having carefully studied the comparison of the top 10 best insoles for spurs, you can choose the best option and use insoles in the treatment process, as well as for the prevention of plantar fasciitis.
For those who prefer to wear cushioning under the heel, we have prepared a review of the 5 best heel pads for spurs, which will help make the right choice, taking into account the anatomical features of the foot.
What ointment to treat calcaneal spur during the recovery period?
After 1-2 weeks of active treatment of heel spurs, the bone growth is significantly reduced, and pain usually appears only in the morning. It is not advisable to use potent ointments during this period, so doctors recommend paying attention to homeopathic external remedies containing a minimum of pharmaceutical components.
Such drugs occupy an intermediate place between therapeutic pharmacy ointments and foot care creams. They can be used 1-2 months until the symptoms of fasciitis disappear completely. What ointments help with heel spur during the recovery period?
The best results show the following tools:
1. Dolobene
Heel spur cream with anti-inflammatory effect. The use of Dolobene during the recovery period promotes tissue regeneration. Apply the cream 1-2 times a day. The disadvantage of this tool is the presence of alcohol, which can adversely affect the condition of the skin.
2. Tiger's eye
The product well relieves inflammation, restores damaged tissues and normalizes the water-fat balance of the epidermis. The composition of the cream includes extracts of juniper and lemon, which have a deodorizing and antibacterial effect. The only disadvantage of this cream is a rather high price and high consumption – one tube is enough for 7-10 days.
3. Golden Mustache
Cream based on herbal ingredients. It has a weak absorbable effect, but perfectly disinfects and warms the feet. Suitable for long-term use, but in some cases causes allergic reactions.
4. Turpentine ointments
They warm well and reduce bone spur. Ointments, which include turpentine, have a pronounced local irritant effect, so they have many contraindications. You can apply turpentine ointments 1-2 times a week until the thorn is completely eliminated. It is necessary to put means in gloves, observing safety measures.
5. Pyatkashpor Normal
The cream contains natural hypoallergenic components: Emu oil, propolis, caffeine. Natural urea and apple cider vinegar contribute to the absorption of the calcaneus. The destruction of the spur occurs gradually.
Pyatkashpor Normal also eliminates increased dryness of the skin, reduces inflammation and helps to cope with tired legs. The constant use of the cream in combination with physiotherapy and unloading the heel help to get rid of fasciitis without causing side effects.
Choosing what to treat with calcaneal spur, Pyatkashpor ointments, which are worth paying attention to, have the following advantages:
time-proven effectiveness – remove bone growth in 1-2 months;
improve metabolic processes in tissues;
eliminate corns, cracks, prevent the development of infection;
have a natural composition, do not contain fragrances and aggressive pharmaceuticals;
recommended by orthopedic surgeons;
economically spent;
can be used as a daily night cream for the feet.
After getting rid of the growth to prevent its reappearance, it is recommended to use a prophylactic cream against heel spurs. These creams include nutrients based on petroleum jelly, alanine, glycerin.
The best cream to prevent relapse of spurs is Pyatkashpor Prophylactic, which perfectly fixes the therapeutic effect and eliminates the risk of a re-appearance of a spike on the heel.
Ointment for heel spur
There are many treatment options for heel spurs. But first of all, to relieve the inflammatory process and reduce pain, topical drugs are prescribed, such as ointments, gels, creams.
What ointments are used in the treatment of heel spurs and how effective are they? Let's find out.
Hydrocortisone
Hydrocortisone ointment is often prescribed in the treatment of heel spurs. This is a powerful hormone that effectively relieves inflammation and reduces heel pain. This ointment consists of synthetic glucocorticoid hormone, it is it that gives an effect like anti-inflammatory and decongestion, and it also relieves itching, which is a good bonus.
Hydrocortisone ointment in the treatment of heel spurs cannot be used if there are fungal or viral skin lesions in the area of ​​its application. And also it is contraindicated for people who have individual intolerance to the main component of the drug – hydrocortisone.
Ointment "Indomethacin"
The use of indomethacin ointment is also a popular way to alleviate the symptoms of calcaneal spur, as well as get rid of the disease. As for the main components, indomethacin (which, in fact, is the name of the drug), which is part of the group of non-steroidal anti-inflammatory drugs, acts in their role, due to which the ointment has a number of useful properties:
anti-inflammatory;
anesthetizing;
antirheumatic;
antipyretic
Do not apply indomethacin ointment on the wound surface of the skin, and you also need to avoid getting it on the mucous membranes. Ointment is contraindicated in case of individual intolerance to indomethacin.
Ibuprofen
The main effect of the ibuprofen ointment is anti-inflammatory and analgesic. The main component, ibuprofen, suppresses inflammatory mediators, improves blood microcirculation, and normalizes vascular permeability, which ultimately significantly relieves swelling and pain at the site of use.
Ibuprofen should be used 3-4 times a day, but not more than three weeks. With a decrease in the symptoms of heel spurs, the frequency of use of the ointment should be reduced. Ibuprofen ointment can be used only on healthy skin – without wounds and lesions by fungus or infection.
If we talk about side effects, then usually in adults they are absent. If you use the medicine for too long, the following reactions are possible:
impaired renal function;
local allergic reaction;
gastrointestinal upset.
Ointment "Ibuprofen" is not used at the age of less than 6 years and in the 3rd trimester of pregnancy.
Diclofenac
This is another effective treatment for heel spurs. "Diclofenac" penetrates into the deeper layers rather quickly, contributing to healing. Ointment relieves inflammatory and degenerative processes in the tissues, has an analgesic effect.
"Diclofenac" refers to non-steroidal anti-inflammatory drugs (NSAIDs). You can not apply this tool to affected areas of the skin, for example, in the event of a foot fungus or a viral infection, it is best to refrain from using it. NSAIDs are not recommended for use during pregnancy, especially in the third trimester.
Dimex >Gel "Dimexidum" has proven itself in the treatment of heel spurs. This drug has anti-inflammatory and analgesic effects.
The main advantage of the drug "Dimexide", which is used both in the form of a gel and in the form of a solution, is its ability to easily penetrate through the skin, quickly providing a therapeutic effect. This penetrating ability allows you to use "Dimexidum" in conjunction with other drugs for external use.
Folk ointments from heel spurs
In the treatment of heel spurs, ointments prepared at home from natural anti-inflammatory components are also widely used. Traditional medicine offers many recipes for the manufacture of ointments for heel spurs, but for well-known reasons, their effectiveness is often questionable.
Most of the ingredients, in order to create such an ointment from a heel spur at home, can either be purchased or even grown if you live somewhere outside the city and you have your own garden plot.
Honey ointment
one tablespoon of honey;
one teaspoon of salt (preferably shallow);
not more than 50 ml of iodine.
The preparation is quite simple: mix salt with honey, and then add iodine. It is best to apply the resulting mixture to a cotton pad, stirring it well beforehand, and then attach it to the heel. For the best effect, you need to close with cellophane and put on a sock, the procedure takes about 15 minutes. According to traditional medicine – after 5-10 sessions, you can achieve the desired effect in the treatment of heel spurs.
Egg and cream ointment
one raw egg;
one hundred grams of butter;
half a glass of apple cider vinegar.
It does not take much time to cook.
You need to melt a little in a water bath.
After that, cool it and mix with the egg.
The shell also needs to be used – crushed and add to the mixture.
To what happened, you need to add vinegar, and then mix thoroughly.
The final step involves waiting – the mixture should be in the refrigerator for about two weeks.
As in the first case, the use involves applying the ointment to the steamed heel. The ointment should be covered with a napkin and fixed to the heel with a compress from the bandage. After 30 minutes, you can rinse. It is important to wipe your foot dry and put on a warm sock. Such a procedure should be carried out daily for two weeks, conducting it immediately before bedtime.
Other folk remedies
You can use other, easier to prepare means that have a charity effect on the treatment of heel spurs.
Grated garlic can be tied for 3-4 hours to the place where the pain is felt, and the procedure should be applied until the symptoms of the disease disappear completely.
Onions are used, which are cut in half, and one drop of tar is dripped into the m >For the most effective use of ointments in the treatment of heel spurs, they are always applied to the heel steamed in hot water. Through soft tissues, it is easier for a medicine to get to the inflammatory process.
The ointment needs to be rubbed intensively, and not just applied to the skin of the foot. At first, it is better to repeat this procedure 3-4 times a day. But as pain symptoms decrease, the frequency of use of the ointment can be reduced, bringing it up to once a day before bedtime. Typically, treatment with local drugs is 10-14 days.
Summing up, we recall that only a doctor should prescribe this or that drug. The independent use of even such a drug as an ointment or gel can have sad consequences in the form of undesirable reactions and complications.
Pharmacy and folk ointments for heel spur
Heel spur is a common and far from the most pleasant disease. The set of measures for spur in the main mode contains tablets or injections, as well as local remedies – special ointments and gels.
The ointment from the heel spur should soften the skin, relieve the inflammatory reaction and reduce pain. Application of the most common medications helps to eliminate stagnation and accelerate the release of spurs. It remains only to choose the appropriate local drug.
Features of the use of ointments
Regardless of how to treat a heel spur, the main thing is to apply ointments correctly with a heel spur. Using a medicated ointment is not too difficult. But their observance will allow us to be sure of the effectiveness of the result in the treatment of plantar fasciitis (calcaneal spur).
One of the main rules – with the "old" heel spur, the ointment is applied after preliminary steaming. Before spreading the spur, it is recommended to build a hot tub for the feet. Water temperature should be extremely maximum, but not causing discomfort. The duration of the procedures is also limited to 15 minutes.
In steamed skin, ointment from spurs on the legs will be absorbed much better. Since the calcaneal skin can be very rough, and the medicine can be wasted in vain if its permeability is not improved.
The second important thing is correct – ointments with a spur on the heel should be smeared with massaging movements and achieve maximum absorption. The difference from protective devices is that with spurs, the ointment must penetrate deeper into the layers of the dermis, and massaging movements against spurs on the heels will improve blood flow.
They will also help get rid of such a disease as a heel spur, simple goods can, you just need to start using orthopedic insoles. They will help relieve symptoms.
Treatment with spur ointments is very effective, does not require special manipulations. But what is the best to smear the heel spur and what ointments help?
Pharmacy ointments
And it is also worth dividing ointments for the treatment of calcaneal spurs into 2 categories: hormonal, non-hormonal. The first category of drugs is also called steroid drugs. They enclose synthetic glucocorticosteroids as an active ingredient from calcaneal spurs.
Such funds are very effective, but have various side effects, from which doctors prescribe them in fairly serious cases. But such a remedy for spurs on the heel acts extremely lightning fast. More often used drugs of non-steroidal origin, for example, Vishnevsky ointment. Because they are softer, but side effects are very rare. Balm or cream from spurs on the heels can be purchased at the pharmacy.
Stop Spur
"ShporaStop" is a multicomponent preparation containing shark fat, elements of a golden mustache. It is worth considering: both components are very effective in the war against foot fasciitis, in combination they have a double effect on fasciitis.
Shark fat extract speeds up the absorption of spur growth, and a golden mustache helps to heal wounds. Another cream for fasciitis Stop Spur helps to eliminate salt, the primary source of the appearance of spurs.
SpurNo
SporNet pharmacy liniment delightfully stimulates blood circulation, improves the flow of nutrients to the calcaneal growth. Thanks to this, he quickly removes the inflammatory focus and promotes the healing of damaged tissues.
To quickly and effectively get the result, you need to smear 2 or more times daily, and to a neglected extent from the spurs on the heels you need to rub up to 4 times. Steaming the feet before application is recommended in salted boiling water. So, the course of treatment is 12 such procedures or more.
Dimexide Gel and Dimexide Ointment
Dimexide in any form can be used against heel spurs in those episodes when the patient is intolerant of alcohol-containing substances. Gel treatment relieves edema, general and local hyperthermia, improves regeneration processes, heals wounds.
It is worth noting that the use of ointments, Dimexid gels increases the permeability of soft tissue membranes, so they are recommended to be used as an auxiliary tool when releasing spurs with other drugs.
Crock Honey
Krok Honey is a natural preparation effective in getting rid of fasciitis. The composition has antiseptic qualities and changes the blood flow in the tissues of the sole, which immediately after using the ointment becomes obvious.
It is necessary to apply the ointment 2-3 times a day after preliminary steaming. After a couple of days, the symptoms of the spur begin to decrease – pain disappears, discomfort decreases. Therapy will be more effective if mobility is limited after use. The minimum cost of Krok Honey is only about 40 rubles.
Indomethacin
This ointment for spurs is used mainly in the treatment of joint ailments, but also effective in fasciitis. The components of the cream reduce swelling, reduce pain. It can be applied only in the absence of external skin lesions.
The maximum duration of therapy is 10 days, and it is also not recommended for use during pregnancy and during breastfeeding. Therapy with pharmacy ointments is not an expensive thing, but indomethacin costs no more than 80 rubles.
Eye of the Tiger
Another heel spur cream is another non-steroidal medicine. Components of Tiger Eye Cream for the treatment of ortho-calcaneal spurs: beeswax, castor oil, horseradish, lilac, lemon, burdock and others. Ortho cream "Tiger Eye" is effective not only for symptomatic therapy, but also to eliminate the causes of spurs, so you can forget about orthopedic insoles and the allowed walking time.
Before application, Tiger Eye advises to process the heel using pumice. It has a warming effect, improves blood flow, relieves pain. The cost of these funds is from one hundred to two hundred and fifty rubles.
Hydrocortisone ointment
This hormonal medicine can be used only on the recommendation of a specialist. It has a powerful anti-inflammatory effect, and also eliminates other unpleasant symptoms of the disease – itching, pain, swelling. The composition includes hydrocortisone (the name comes from it), has a number of contraindications. It should be used only for 2 weeks.
The ointment base, which should be checked by a doctor when used in a teenager up to 12 years of age, is also not recommended for pregnancy, breastfeeding.
At a cost of one of the most affordable – about thirty rubles.
Golden mustache
The medicine "Golden mustache" is made on the basis of natural ingredients. It has a wide range of useful properties: it reduces inflammation, reduces pain, and edema, because it additionally contains shark fat.
It has an anti-inflammatory result, has a mild healing effect, which is reasonable in the early stages of the disease "calcaneal spur."
In addition to the main symptoms, the Golden Mustache also relieves a number of consequences of the heel spur – cracks or fungus. An effective ointment is 100-120 rubles.
Ointment based on folk remedies
In addition to pharmacy medicines, preparations prepared independently can be used. Folk remedies are usually cheaper than purchased, the effectiveness sometimes surpasses them.
The use of homemade ointments and calcaneal spur in allergy sufferers will help to exclude those components that cause a negative reaction.
A good effect in the fight against the diagnosis of "spur" has an ointment with vinegar and calendula. The basis for it can be taken in a pharmacy and increase its effectiveness by adding apple cider vinegar and vitamin A. Vinegar will need a tablespoon of 10 grams of ointment, but vitamin A will have to take twice as much used amount of ointment.
Using the product with acetic acid, perfectly relieves inflammation of the tissue, heals the skin of the heel, eliminates cracks. You need to use it after steaming your feet.
Cooking ointment talkers with a golden mustache can be done independently. It is necessary to mix the crushed leaves of a golden mustache in a proportion of two to three with a baby cream or other oily base. For this, Vaseline or pork fat is suitable. The action of the ointment removes the warming property, but it is perfectly absorbed, relieves swelling, pain.
To get rid of fasciitis, you can cook a tar mash. To do this, mix 150 grams of birch tar and 80 grams of baby cream.
Next, add a little honey, chopped chili pepper. They have powerful anti-inflammatory antipyretic and analgesic properties, and should be used carefully. Apply it 2 times a day for 14 days.
It is important to remember that only recipes for alternative therapy will not be able to get rid of such a disease as a heel spur. Complex therapy and specialist advice is needed. Only then can we expect a quick recovery.
Effective ointments for calcaneal spur: names and description of agents
Once, getting up from bed in the morning, a person experiences unbearable pain in the heel. After a few hours, the pain subsides, but returns in the evening. After consulting with a doctor and an X-ray examination, it turns out that a spike or heel spur has formed on the heel. How dangerous is this? Do I need to be treated? If so, which drugs are effective?
After diagnosis, a person is offered different methods of treatment. It can be medication, physiotherapy, folk or surgery.
It would be wise not to immediately resort to surgery, since the task of treatment is to eliminate inflammation of the tissues around the spike and increase the elasticity of the ligaments. And this can be done without much stress for the body.
Someone decides to leave everything as it is, because the pain in the heel spur has the peculiarity to abate for a while. Would this be the right decision?
Heel spur – what is dangerous?
If you take into account the osteophyte itself, then it does not pose a special threat to the body, with the exception of pain. This can be compared to a pebble trapped in shoes. How many people walk, so many pebbles reminds of themselves. Spur also does not forget about itself when walking, causing pain to a person.
Calcaneal spur is a consequence of the inflammatory process in the human body caused by arthritis, diabetes, obesity, ankylosing spondylitis. Therefore, if not treated, it means to ignore the source of the disease.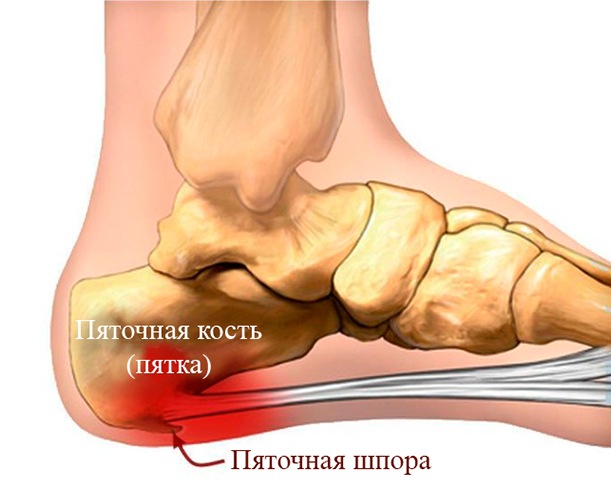 A person may refuse treatment, but he will not tolerate pain. And the uncontrolled use of pain medications can lead to addiction, a nervous system disorder or gastritis.
In addition, in order not to feel pain and relieve pressure from the heel, he will begin to change his gait, distributing the weight to the toe and sides. This will lead to deformation of the foot.
In addition, osteophyte will progress, causing more inflammation and pain. From this dizziness, loss of consciousness are possible.
Many people, of the proposed treatment methods, prefer medication. The complex treatment of this method includes ointments.
How and how do ointments help
Complex therapy of plantar fasciitis (calcaneal spur) includes tablets, injections, ointments for external use.
Usually osteophyte causes not only pain, but also redness, swelling, tightening at the site of tissue damage. Therefore, ointments for topical application are simply necessary. They will relieve inflammation, anesthetize and soften the heel skin.
Rubbing the ointment can be compared with the manipulations performed during the massage. This enhances blood circulation at the location of the heel spur, which helps to improve the condition.
What types of ointments are suitable for complex treatment
Ointments for the complex treatment of heel spurs can be divided into several groups:
Nonsteroidal anti-inflammatory.
Hormonal steroid.
Warming.
Stimulating regenerative.
Homeopathic.
Phyto-ointments.
Like any medicine, they all have a positive result, so they have contraindications. You also need to consider the rules for their application.
Voltaren and Indomethacin Ointment
Group: non-steroidal anti-inflammatory.
Voltaren eliminates pain, inflammation in the muscles, tendons, tissues, joints caused by spurs.
It is contraindicated in children under 12 years of age, persons with individual intolerance to diclofenac, those who are allergic to analgin; pregnant women (3rd trimester); with bronchospasm.
Apply a little to the dry surface of the heel 3 times a day. The course is 3 weeks.
Indomethacin ointment is indicated for inflammation and degeneration of joints, for pain in muscles, for post-traumatic inflammation of soft tissues, ligaments.
Contraindicated in pregnant women, during lactation, in children under the age of six.
Apply a thin layer on a clean heel surface 2-3 times a day. 2 weeks course.
Prednisolone and Hydrocortisone Ointment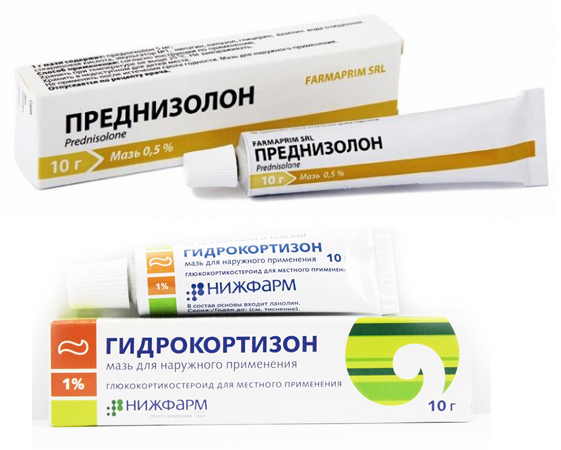 Group: hormonal steroid.
Prednisolone is prescribed for inflammatory skin diseases of non-microbial origin.
Contraindicated in wound, ulcerative, fungal skin lesions. Do not use during pregnancy and lactation.
Apply 1-3 times a day, rubbing with light movements. Course up to 2 weeks.
Hydrocortisone ointment restores the balance of minerals, eliminates a strong inflammatory process. Steroids constrict capillaries, eliminate pain and swelling.
Do not apply on damaged skin. Can not be used by pregnant women.
Apply a thin layer, rub until completely dry 1-3 times a day. The course is determined by the doctor.
Viprosal and Finalgon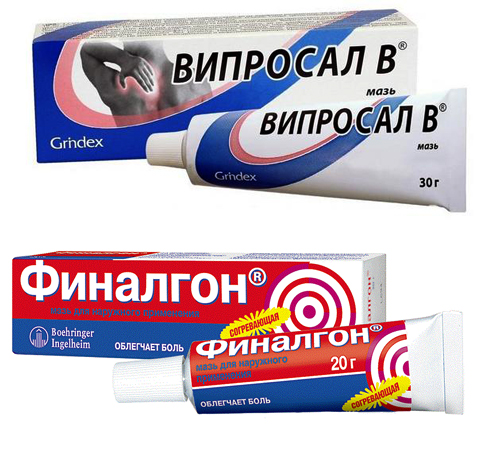 Viprosal – a strong painkiller for joint and muscle pain. Active ingredients – viper venom, camphor and salicylic acid.
Contraindicated in case of individual intolerance to one of the components. Do not apply to affected skin.
Apply 1-2 times a day, rub intensively into the skin, until the pain disappears.
Finalgon improves blood circulation, accelerates the elimination of toxins formed during inflammation. It accelerates the restoration of affected areas, improving tissue heat transfer. It is indicated for muscular, articular pain syndrome.
Contraindicated in skin lesions and individual intolerance to the components.
On a washed, dry surface is applied 2-3 times a day. The course is 14 days.
Mucosat and Chondrox >
Group: stimulating regenerating.
Mucosate is prescribed for degenerative diseases with primary arthrosis. Promotes regeneration of the articular surface. Reduces pain.
Contraindicated in case of hypersensitivity and violation of the integral cover in the spur.
It is applied over the focus 2-3 times a day, rub 2-3 minutes. The course is 3 weeks.
Chondroxide reduces pain, helps restore cartilage and elastic tendon fibers. It inhibits the growth of bone tissue, stops the growth of the spike.
Contraindicated in case of hypersensitivity, pregnancy, lactation.
It is applied 2-3 times a day on a clean surface of the skin. The course is 21 days.
Pyatkashpor and Apis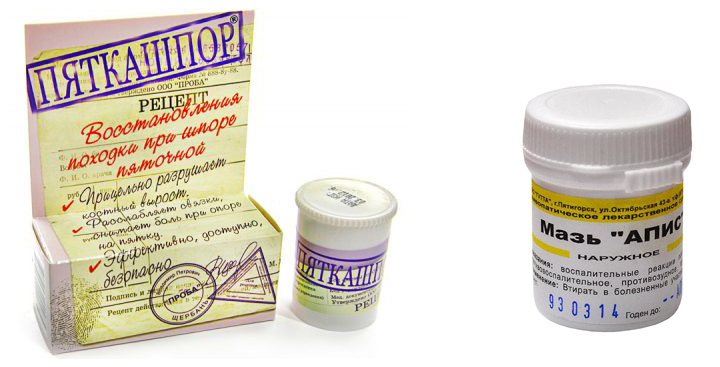 Pyatkashpor has a positive effect on the connective tissue of damaged ligaments. Eliminates their inflammation, heals. The plant components that make up relieve pain and swelling. Contraindicated in case of hypersensitivity to one of the components of the drug.
Before applying the ointment, the legs are steamed in a soda solution. Wipe dry, apply ointment with a thin layer, put on warm socks.
Apis accelerates the breakdown of metabolic products that cause pain. Expands capillaries, which helps to warm the skin. Improves muscle oxygen supply.
It is contraindicated if there is an allergic reaction to beekeeping products, to preschool children, during pregnancy and lactation.
Impose a thin layer, rub in the place of localization of pain. Use a warming dressing.
Golden Mustache and Cinquefoil Ointment
Golden Mustache helps restore joint tissue. Significantly reduces pain. Eliminates edema from muscles and ligaments. Contraindications – individual intolerance.
Apply a thin layer, rubbed for two minutes, apply a warm dressing. Twice a day. The course is two weeks.
Sabelnik ointment relieves inflammation, eliminates pain, prevents the deposition of salts on bones, in fibers. It enhances blood circulation, makes the ligaments more elastic. Contraindicated in case of individual intolerance.
Apply a thin layer. Rubbed in a circular motion. Pre-take foot baths or massage – this helps to enhance the penetration of the ointment deep into the tissues. Enough 2 single use per day. The course is up to 3 months.
The choice of ointment for the treatment of heel spurs depends on the degree of the disease, as well as on the personality of the body.
Effective ointments from heel spurs, the advantages and disadvantages of drugs
Heel spur is one of the most common pathologies, which is quite difficult to predict. It occurs on the feet and causes tangible discomfort while walking. In the absence of therapy, fasciitis gradually increases. Conservative treatment methods are preferred. A correctly selected ointment from a heel spur removes pathology in a short time.
Causes and symptoms
Calcaneal spur (plantar fasciitis) – pathological proliferation of bone tissue. It begins due to inflammation of the plantar fascia. In the initial stages, it may not have obvious symptoms, and quickly becomes chronic. The proliferation process injures nearby healthy tissues at the junction of the calcaneus and plantar fascia.
Before starting to treat a spur, it is necessary to identify the causes that provoked the violation and the stage of development of the disease. Only after that the optimal creams or ointments are selected.
Where does the spur form
The main cause of the appearance of spurs are considered pathologies that cause a violation of the calcium metabolism in bone tissues. Provoke the disease can also:
mechanical injuries of the problem area;
diabetes;
excess weight;
chronic diseases;
arthritis;
flat feet;
inflammation of the musculoskeletal system.
In the zone of greatest risk are women experiencing serious hormonal changes or menopause.
When an osteophyte (bone formation) begins to put pressure on soft tissues, discomfort periodically appears during walking. It may seem to the patient that a nail or sliver is stuck in the heel area. The intensity of the pain syndrome depends on the location of the growth – the closer it is to the nerve endings, the stronger the sensation.
At the initial stage of spur development, pain occurs only in the morning, during the first steps of the day. Over time, the syndrome appears more often with any physical exertion. If treatment is not started, discomfort may even be at rest.
How does pathology develop?
In the area of ​​injury, calcium compounds of insoluble type slowly accumulate. They irritate the mucosa of the articular bag and surrounding soft tissues. From this, an acute cramping or aching pain appears, which suddenly intensifies and gradually weakens.
Classification of pharmacy ointments
The medication treatment includes the use of hormonal, analgesic and non-steroidal anti-inflammatory drugs. Choosing how to treat a spur, you need to focus on the severity of pain and the stage of the disease. It is advisable that the attending physician select the drugs.
Hormonal ointment
The hormonal agent can be used to stop the inflammatory process and anesthesia. The most effective drug in this group is Diclofenac. You can buy a medication for external use with the same name. It relieves morning swelling and stiffness, increases the range of motion in the affected areas.
For the treatment of heels, it is allowed to use "Hydrocortisone" – an ointment that quickly alleviates symptoms and stabilizes the balance of mineral substances in tissues. After application, it can contribute to the narrowing of the capillaries in the spur, which reduces puffiness. Long-term use is fraught with side effects from the endocrine system and skin – an allergy develops in weeks.
Ointment "Prednisolone" is characterized by anti-allergenic and anti-inflammatory effects, in some cases it is effective for curing fungal diseases. The optimal course duration is up to two weeks. Apply on the heel means 1-2 times a day.
The area that needs to be treated with ointment
"Betamethasone" refers to synthetic agents. Helps to stop inflammation and quickly neutralizes the main symptoms – dryness, swelling and pain. Active substances excrete kidneys and bile from the body.
Non-hormonal ointment
To cure spurs, the Golden Mustache is used – a creamy cream preparation that is most effective at the initial stage of the disease. It has decongestant, analgesic and anti-inflammatory effects. To enhance the effect, it is recommended to anoint the problem heel and put on clean cotton socks. Refuse will have to with fungal lesions and deep cracks.
The cream called "Tiger Eye" includes castor oil, beeswax, natural extracts of horseradish, lilac and lemon. The skin should be treated three times a day, previously it is desirable to cleanse the skin with pumice.
Painkillers
Essential treatments should help fight spurs and relieve symptoms. If the treatment mechanism includes medications in the form of tablets, an ointment or gel may additionally be required to eliminate the pain syndrome. Choosing how to spur the spur, you should focus on the composition.
A good anti-pain drug is called Chondroxide. In addition, it reduces the swelling of the compounds, improves their mobility, helps restore cartilage and relieves inflammation. The gel is applied 2-3 times a day and is quickly absorbed. The duration of treatment is no more than three weeks. Used with caution in the treatment of children, pregnant or nursing women.
Spur Processing
Ortofen is available in the form of an ointment and includes diclofenac. It has a pronounced analgesic effect, quickly removes joint pain both at rest and during movement. Helps to relieve morning swelling. A transdermal patch can also be sold in a pharmacy, which is glued once a day and worn for a whole day.
Voltaren Emulgel helps to remove inflammation and pain in the ligaments, muscles and joints. Increases mobility and eliminates puffiness. It is applied to the skin in the morning and evening, the interval between use should be approximately twelve hours. The maximum duration of use is two weeks. If after seven days there is no improvement, the drug should be changed.
"Ichthyol ointment" is suitable for pain relief. It is an analgesic and pain relieving antiseptic. It should be applied in a thin layer 2-3 times a day, on top of the treated area is covered with a gauze napkin. With external use, the components do not enter the systemic circulation, the tool is almost safe.
Folk recipes for home ointments
As an aid to drug therapy, the use of ointments that are prepared at home according to folk recipes is allowed. To make vinegar for external processing, you need:
egg;
100 ml apple cider vinegar;
200 gr. butter.
The protein and yolk are whipped, the shell is added, crushed to a powder state. Vinegar is poured, the ointment blank is placed in a dark, warm place for three days. Before use, thawed oil is added. Apply twice a day with rubbing movements, the course is one week.
To improve blood circulation in the fascia area are mixed:
30 gr honey;
a little chili pepper;
150 gr. birch tar;
80 gr. fat baby cream.
Apply once a day in a thin layer. Relief should occur within 14 days.
Natural honey relieves inflammation well
In the absence of an allergy to bee products, the ointment is prepared from 20 g. iodine, 200 gr. natural buckwheat honey and a pinch of salt. Everything is thoroughly mixed, applied to a spur before bedtime. To enhance the effect, the problem area is wrapped with cling film or cellophane, a woolen sock is put on top. You can get rid of spurs in this way no longer than ten days.
Your doctor can tell you what ointments are better for healing spurs. If any drug does not provide the necessary assistance within 10-14 days, you should visit a specialist again to find another remedy.