Joint injections are an integral part of the treatment of many diseases of the musculoskeletal system. Most often, they are prescribed for deforming osteoarthrosis (OA), injuries and chronic inflammatory joint diseases. For injection use several groups of drugs. The choice of medication, its route of administration and treatment regimen is carried out by the attending physician.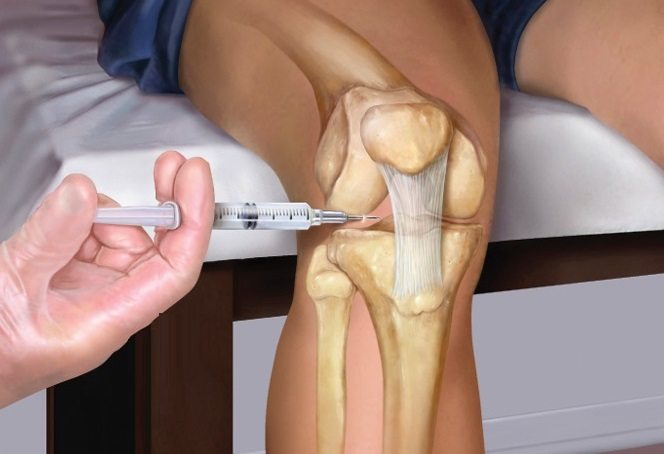 We will figure out what injections from joint diseases you can be prescribed by a specialist in different situations. We will find out how this or that medicine works, what are the advantages of each method of administration.
Who needs injections for joints and why
Medicinal blockades are usually used to quickly relieve pain, which can be caused by bruises, injuries, dislocations, sprains, torn menisci, acute inflammatory processes in the knee. Such injections are done for post-traumatic pains in the knee joint. The introduction of local anesthetics can alleviate the suffering of the patient, but does not have a therapeutic effect. After the injection, the patient is examined and a course of treatment is prescribed.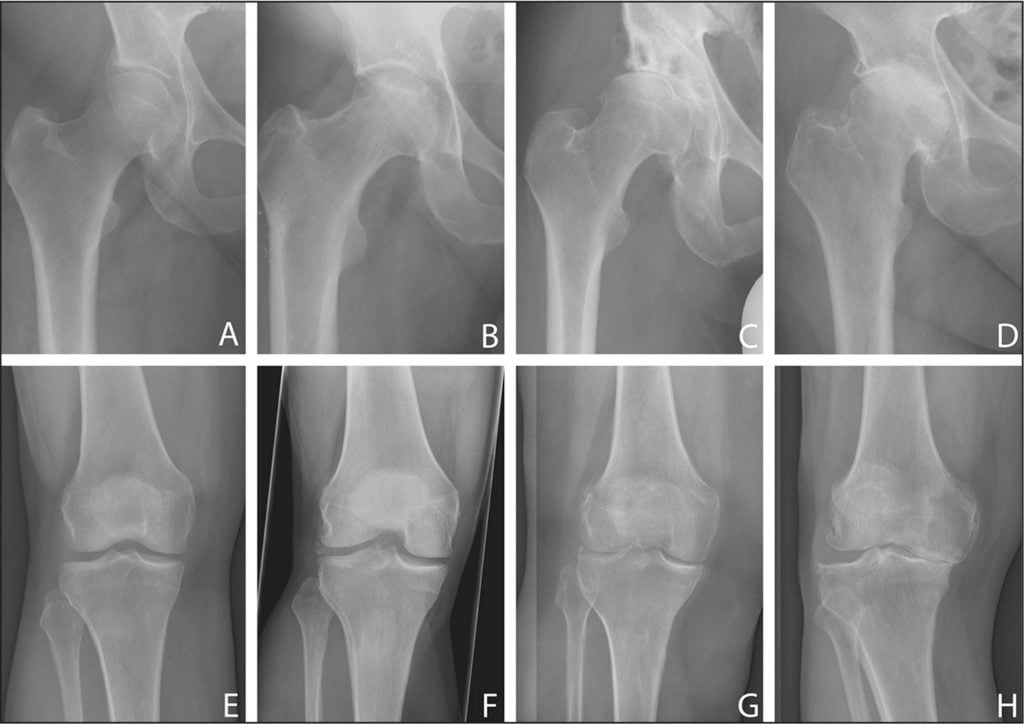 Names of commonly used injections for acute joint pain: Novocain, Trimecain, Lidocaine.
Scheduled local injection therapy (LIT) is prescribed only after examination of the patient. Doctors select medicines and treatment regimens, coordinating with the patient. The procedures are performed on an outpatient basis, less often in a hospital setting.
Diseases for which LIT is required: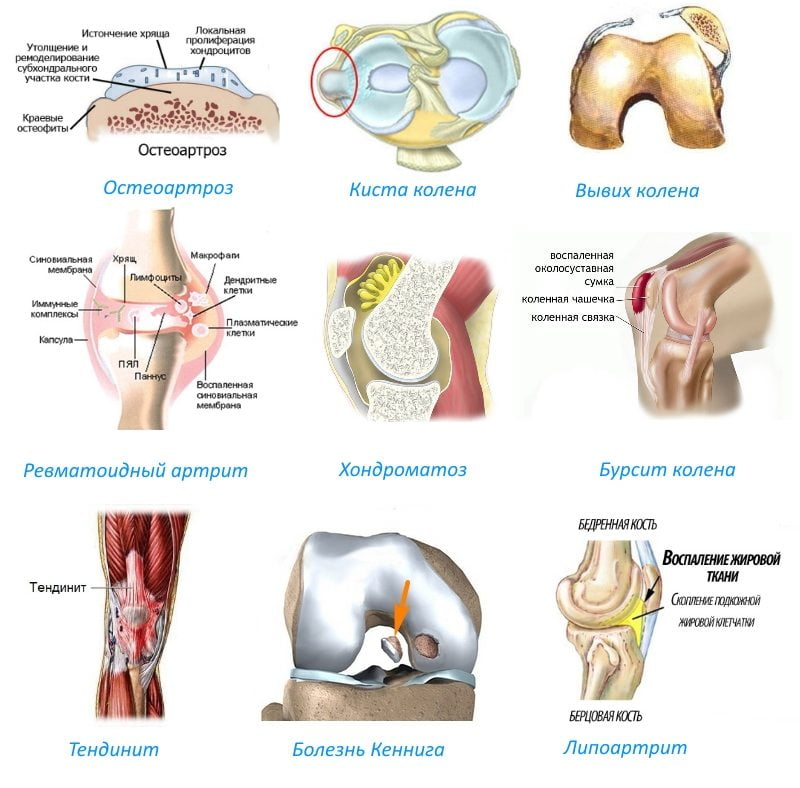 In addition to drugs, carbon dioxide (CO) can also be introduced into the articular cavities.2), platelet-rich plasma (OTP), cell or tissue engineering products. These funds are used for chronic diseases of the joints, which are accompanied by the destruction of cartilage.
With purulent synovitis, bursitis and arthritis, patients are removed excess synovial fluid, washed the joint cavity and injected with antibiotics. Names of popular antibacterial injections for joints: Zeporin, Ampicillin, Gentamicin.
Types of injections
In orthopedics and traumatology, several methods of drug administration are used. Doctors give preference to each of them in a particular situation. With sprains or inflammation of the ligaments, periarticular injections of corticosteroids with local anesthetics are more often prescribed, with severe deforming osteoarthrosis – intraarticular injection of hyaluronic acid.
Methods of injecting drugs in orthopedics and traumatology:
intramuscular. It is used when it is necessary to stop a pronounced pain syndrome. Intramuscularly, patients are administered non-steroidal anti-inflammatory drugs (Arthrosan, Movalis, Dynastat, Amelotex). In chronic osteoarthritis, chondroprotectors can be injected into the muscles of patients. Hyaluronic acid and corticosteroids are not administered by this method;
periarticular. Drugs are injected into the periarticular tissues. Periarticular block is needed for severe pain in the joint caused by trauma or inflammation. The introduction of corticosteroids and local anesthetics is effective when only articular tissues are affected, but not the joint itself;
intraarticular. Used for severe diseases of the joints. In the synovial cavity, drugs are introduced that have anti-inflammatory, regenerative or restorative effects. Corticosteroids, chondroprotectors, or hyaluronic acid are usually used for injection. Sometimes several drugs are used for treatment.
With deforming osteoarthrosis, intra-articular administration of drugs is most effective. It allows you to create the maximum concentration of the drug in the foci of pathology. The effect of such therapy is higher than that of taking tablets and intramuscular injections.
Groups of drugs for injection
For the treatment of joints of different localization using the same drugs. According to the direction of action, they can be divided into anti-inflammatory, analgesic, antibacterial and regenerating agents. Let's find out how different groups of drugs work.
Many people are interested in the names of injections for the knee joint. With injuries and diseases of the knee, the same drugs are injected into patients as with joint damage of any other localization.
Table 1. Injection products used in orthopedics and traumatology
Group
Representatives
The mechanism of action and purpose of application
Corticosteroids
Diprospan
They have a powerful anti-inflammatory and analgesic effect. They are prescribed for arthrosis, chronic arthritis, non-infectious synovitis and periarthritis to stop the inflammatory process
Chondroprotectors
Alflutop
Protect intraarticular cartilage from rapid destruction, inhibit the development of deforming OA. There is still debate in academia about whether chondroprotectors can repair damaged cartilage
hyaluronic acid
Sinocrom
Normalize the composition of the synovial fluid, making it more viscous and dense. Protect intraarticular cartilage from trauma, contribute to their regeneration
Local anesthetics
Lidocaine
Quickly stop the pain syndrome, used for some injuries
NSAIDs
Dynastat
Relieve pain and relieve inflammation. Prescribe these drugs in the form of tablets or intramuscular injections
Antibiotics
Гентамицин

Even "neglected" joint problems can be cured at home! Just remember to smear it once a day.

They have an antibacterial effect. With intra-articular administration, the synovial cavity is cleaned of pathogenic bacteria

Basic principles of corticosteroid therapy
For the treatment of joint diseases, mainly prolonged-acting corticosteroids are used (Diprospan, Phlosterone, Kenalog-40). These drugs are enough to enter 1 time in 7-12 days. The duration of the course of therapy depends on the severity of the disease and the response to treatment. Doctors prescribe 1-5 hormone injections to patients.
Steroidal anti-inflammatory injections for joints relieve pain and relieve inflammation. Their action is best manifested after the first procedure. In the future, the effect of each injection seems to the person less pronounced. If after the first injection your health has not improved, tell your doctor about it. Most likely, he will decide that there is no point in continuing treatment.
Corticosteroids are only suitable for the symptomatic treatment of chronic arthritis and arthrosis. They do not restore the structure of cartilage, but only temporarily relieve pain and inflammation. With prolonged use, steroids disrupt the metabolic processes in the cartilage, which accelerates their destruction.
Treatment with different types of chondroprotectors
For injections into the joints with arthrosis, injection forms of chondroprotectors (Noltrex, Chondrolon, Alflutop) are very often used. They are injected into the synovial cavity with an interval of 6-10 days. The course of treatment usually consists of 5-6 procedures. Sometimes, along with injections, patients are also prescribed tablets or intramuscular injections.
Names of chondroprotectors for intramuscular injections for joints: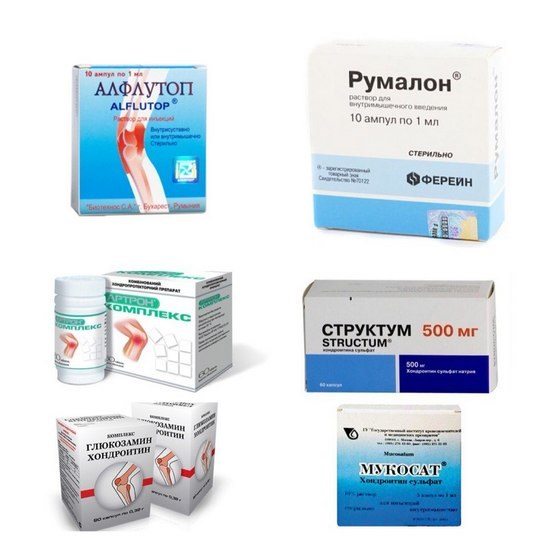 In clinical trials, scientists found that combination treatment with different types of chondroprotectors can achieve more pronounced results than monotherapy. For example, oral administration of the drug along with its intra-articular administration is very effective. Different forms of chondroprotectors potentiate (i.e. enhance) each other's action.
Simultaneous treatment with chondroprotectors and hyaluronic acid can stop pain and improve the functional state of the joint.
Hyaluronic acid preparations for joint injections
Hyaluronic acid is the main and most important component of synovial fluid. With degenerative-destructive diseases of the joints, its amount decreases, which accelerates the destruction of cartilage. Replenishment of a deficiency of hyaluronic acid slows the progression of arthrosis and significantly improves the patient's condition.
Names of drugs for injections in the knee and TBS for joint arthrosis: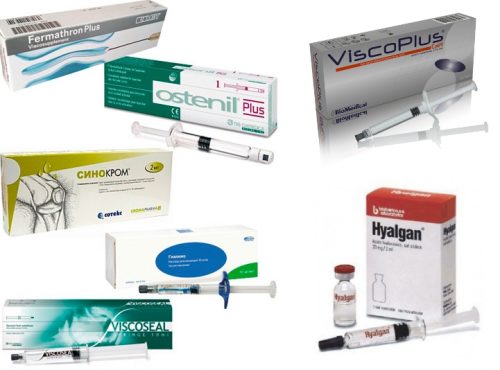 Hyaluronic acid preparations are administered only into the synovial cavity. Medications are usually injected at intervals of 5-7 days. The course of treatment consists of 3-5 injections, and the effect of its passage lasts for 8-10 months. The introduction of hyaluronic acid is recommended to be repeated 1-2 times a year.
Hyaluronic acid is destroyed almost instantly in inflamed joints. Therefore, there is no point in administering it to persons with acute arthritis and purulent synovitis. The medicine is suitable only for the treatment of chronic degenerative-destructive diseases of the joints and non-purulent inflammatory processes in the periarticular tissues.
Hyaluronic acid preparations are also called synovial fluid implants. If you meet this term somewhere – do not get lost. Know that the introduction of hyaluronic acid has nothing to do with endoprosthetics, that is, surgical joint replacement.
Gas injections or carboxytherapy
Carboxytherapy is an alternative treatment that is used to combat certain joint diseases. The essence of the technique is the intraarticular introduction of carbon dioxide. The procedure is performed using a special device. Manipulation can be repeated with a frequency of 3 times a week to 1 time per month.
After the introduction, a person has mild pain, swelling, redness of the skin in the joint. Soon all these unpleasant symptoms disappear. Carbon dioxide is completely removed from the body after 5-20 minutes, but the therapeutic effect lasts up to 20 days. Carboxytherapy stimulates blood flow to the joints and should technically help restore cartilage. But it is impossible to cure arthrosis or arthritis with its help. The technique is used only as an auxiliary method of treatment.
Carboxytherapy is not a method of traditional medicine, so you should treat it with extreme caution. Before deciding on a procedure, be sure to consult with an orthopedist.
PRP Method
Other names for such injections from joint diseases are plasmoplasty, plasmolifting. The essence of the technique is the intra-articular introduction of human plasma enriched with platelets (OTP). To obtain it, 150 ml of blood are taken from a patient from a vein and centrifuged to obtain a concentrate containing about 1 platelets in 000 μl.
OTP is administered in an amount of 5 ml every 2-3 days. The standard course of treatment consists of 3 procedures. Platelet-rich plasma contains a large number of growth factors and chondroprotective agents. It stimulates the restoration of cartilage, slows down the development of arthrosis. Plasmolifting is especially effective in young patients with I-II stages of deforming OA.
PRP is a cell engineering method. In addition to platelet-rich plasma, the stromavascular fraction of adipose tissue and biomedical cell products can also be introduced into the articular cavities. The latter are made artificially from human cartilage cells.
The technique of periarticular and intraarticular injection
Doctors make periarticular and intraarticular injections in a specially equipped treatment room. The patient removes the interfering clothes and takes the most comfortable position. The doctor washes his hands, puts on gloves, treats human skin with an alcohol solution and prepares the drug for administration. For injections, syringes with a volume of 2 or 5 ml are most often used. Some experts prefer small "insulin" needles.
Right before the injection, the doctor once again treats the patient's skin. If necessary, he will anesthetize the injection site with a solution of local anesthetic with adrenaline (or without it). Only after this, the doctor introduces the drug. A specialist who has a good command of intraarticular and periarticular injection techniques has the right to perform the procedure.
If before the introduction of the drug there is a need to remove excess intraarticular fluid, a separate 20 ml syringe is used for this. It is strictly forbidden to collect medicine in it after aspiration.
Possible injection complications
Although the injections are performed in compliance with all the rules of asepsis and antiseptics, in some cases infectious complications may develop after them. The cause may be the introduction of pathogenic microorganisms during manipulation. Undesirable consequences most often occur in people with weakened immunity and immunodeficiency states.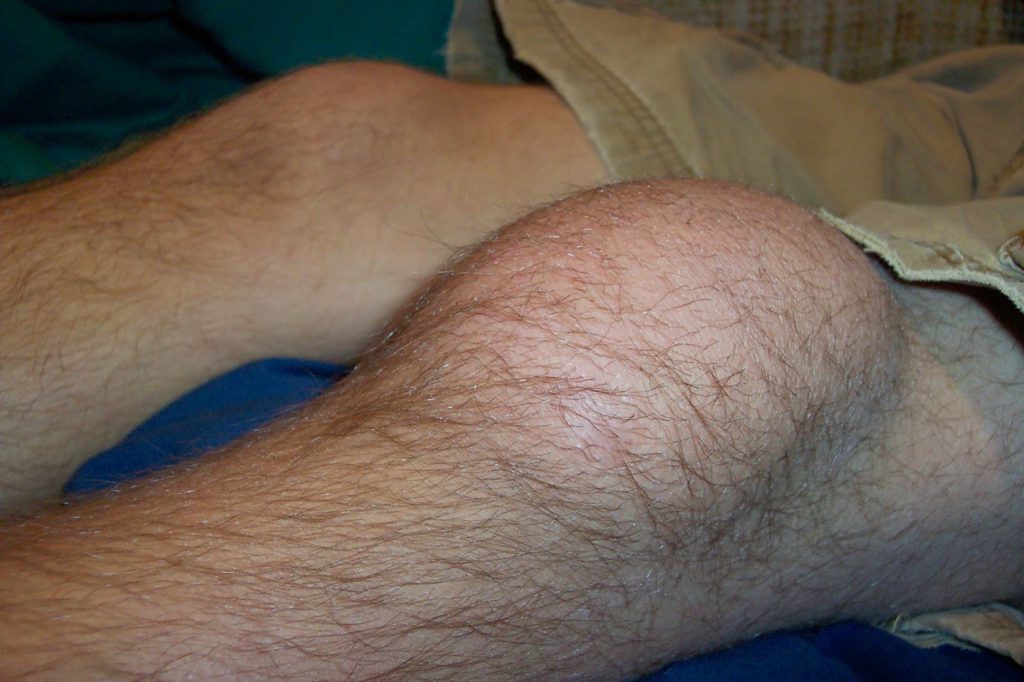 In the first hours after intraarticular or periarticular administration of corticosteroid drugs, 5-15% of patients develop the so-called post-injection crystalline synovitis. It is characterized by increased pain and signs of joint inflammation. Unpleasant sensations persist for 2-3 days and pass without any consequences.
Frequent injections lead to excessive injury to the joints. And long-term steroid treatment helps to destroy cartilage, weaken the ligaments and tendons. All this ultimately causes the "looseness" of the joint. Abuse of corticosteroids (like any other injectable drugs) is not worth it. It is necessary to conduct treatment rationally and without harm to humans.
Shishkevich Vladimir
Orthopedic doctor, traumatologist
I have been treating joints for many years. I can say with confidence that the joints are always treatable, even in the very ripe old age.
Hondrostrong is an innovative drug that is created to combat joint diseases. It helps with arthritis, arthrosis and other diseases. Thanks to the use of cream, joint mobility quickly returns. Damaged cartilage tissue is regenerated, which prevents the further development of the problem.
Our medical center was the first to receive certified access to the latest drug for osteochondrosis and joint pain -
Hondrostrong
. I confess to you when I heard about it for the first time, I just laughed, because I did not believe in its high efficiency. But I was amazed when we completed testing: 4567 people were completely cured of diseases of the organs of the musculoskeletal system, and this is more than 94% of all subjects. 5.6% felt significant improvement, and only 0.4% did not notice any improvement.
Hondrostrong cream allows you to forget about back and joint pain in the shortest possible time, literally from 4 days, and even very difficult cases can be cured within a couple of months. In addition, the manufacturer of this product is now offering a
50% discount
of the full cost of this medication.