For mild forms of gout, it is recommended to eat wild strawberries: in the morning on an empty stomach one or two glasses, after lunch one glass and one or two glasses before bedtime
It is worth considering that herbs must be used for a long time to achieve the desired result. They can not replace drug treatment, they are allowed to be used only as a supplement to the main therapy.
You can get rid of gout only with the help of a well-designed treatment regimen. Herbal collection should be selected individually in each case, this will help to make a specialist. The following herbs are considered the most effective against gout:
Leaves and buds of birch, lingonberry leaves. Aimed at normalizing uric acid levels.
Peony, currant leaf, licorice root, meadowsweet. They have anti-inflammatory effect.
To reduce the level of uric acid, herbs are used internally, due to diuretic properties, they contribute to the removal of toxic substances from the body. Before starting treatment, it is worth considering that some of them have a number of contraindications:
Lingonberry. Contraindicated in cholecystitis, low blood pressure, ulcerative lesions of the gastrointestinal tract and urolithiasis.
Birch leaves and buds. Not recommended for chronic renal failure.
Currant leaf. It is forbidden with thrombophlebitis, with bleeding disorders, inflammatory processes in the organs of the gastrointestinal tract, as well as with individual intolerance.
Pion. Not recommended for pregnant and lactating women.
Meadowsweet. It is not used for low blood pressure, pregnancy, in childhood, and also with a tendency to bleeding.
Chamomile, nettle, plantain and aloe are the safest herbs that are not capable of causing serious damage to the body. Their anti-inflammatory effect is weakly expressed, but with regular use they give a positive result in the treatment of gout.
All herbs are sold in pharmacy chains, as well as in phyto-shops. In this case, the purchase is most secure, as the herbs are collected and checked by specialists. You can purchase both ready-made collection, and all the necessary components separately.
Health Recipes
There are many recipes for treating gouty diseases at home. Before starting therapy, it is recommended to consult a doctor to find the most suitable.
Shishkevich Vladimir, orthopedic and traumatologist, project editor-in-chief ExpertNews.

I have been treating joints for many years. I can say with confidence that the joints are always treatable, even in the very ripe old age.

Hondrostrong is an innovative drug that is created to combat joint diseases. It helps with arthritis, arthrosis and other diseases. Thanks to the use of cream, joint mobility quickly returns. Damaged cartilage tissue is regenerated, which prevents the further development of the problem.

Our medical center was the first to receive certified access to the latest drug for osteochondrosis and joint pain - Hondrostrong. I confess to you when I heard about it for the first time, I just laughed, because I did not believe in its high efficiency.

But I was amazed when we completed testing: 4567 people were completely cured of diseases of the organs of the musculoskeletal system, and this is more than 94% of all subjects. 5.6% felt significant improvement, and only 0.4% did not notice any improvement.

Hondrostrong cream allows you to forget about back and joint pain in the shortest possible time, literally from 4 days, and even very difficult cases can be cured within a couple of months. In addition, the manufacturer of this product is now offering a 50% discount of the full cost of Hondrostrong cream.
Internal application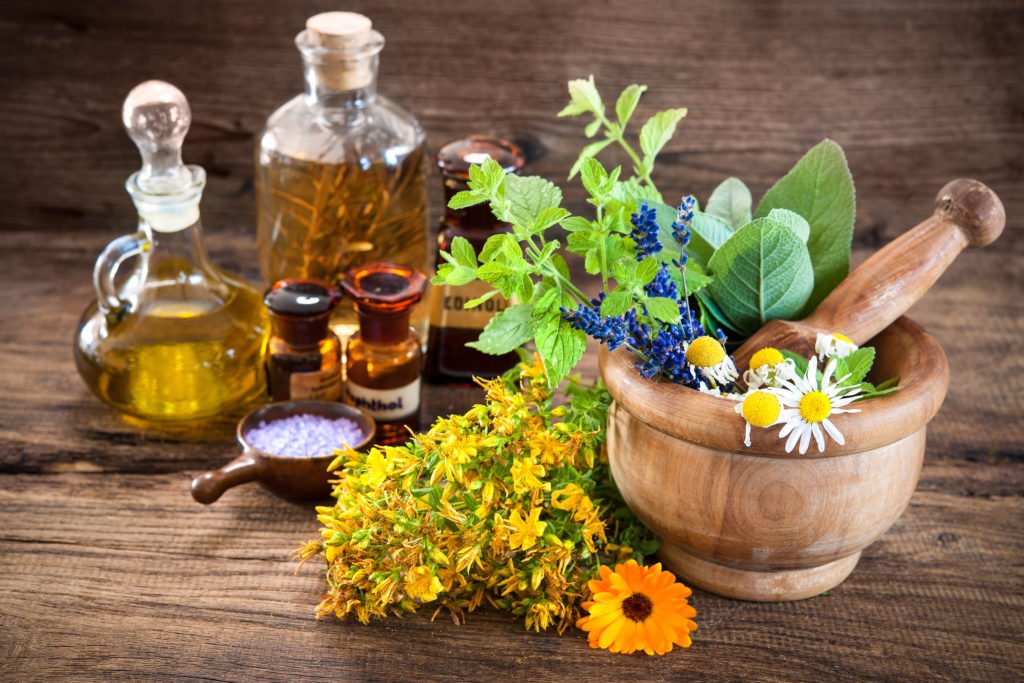 In the period of exacerbation of the disease, herbs are drunk in high doses, enhanced herbal medicine lasts about two to three weeks
When used internally, herbs give the fastest result, but it is in this case that the likelihood of side effects increases. Before you start taking herbs inside, you need to make sure there are no contraindications. In order to minimize the likelihood of allergic reactions, treatment begins with minimal dosages.
The most popular recipes for internal use for gout are the following:
Decoction of birch buds. 5 grams of birch buds pour 100 ml of hot water, put to boil for 10 minutes. Insist 20 minutes. Filter thoroughly before use. It is recommended to take after each meal a quarter cup daily. The same tincture can be prepared on alcohol. But it is worth considering that it is contraindicated for pregnant and lactating women, as well as for violations of the liver, kidneys and gastrointestinal tract. Alcohol tincture is used in 10 drops daily.
Herbal tea. Such tea is widely used in the treatment of gout, as it has no contraindications, except that it is not recommended for pregnant women, as well as for severe impaired renal function. St. John's wort, linden and chamomile are required. Mix all components in equal proportions, then pour hot water. Put infuse in a dark place for 8-9 hours. Take daily, 2-3 times a day in a glass. It is recommended to use during the daytime, as tea has a diuretic effect.
Decoction of licorice root. The root must be finely chopped (to the state of the powder), take 2 tablespoons of the resulting powder and pour a liter of clean water. Put on low heat, cook for 50-60 minutes. The drug is used in 50 ml daily, the course of treatment should not exceed 2 months.
Decoction based on meadowsweet. 2 tablespoons of grass meadowsweet pour a liter of clean water. Then put on medium heat and cook for 20-30 minutes. After that, leave to infuse in a dark place for 30-40 minutes. The broth is taken daily at 100 ml twice a day. The result becomes noticeable no less than after two months of treatment.
Infusion of gray willow. It will take a tablespoon of gray willow bark, it is necessary to fill it with 0,5 l of pure water. Put in a dark place for 8 hours. Every day a new infusion is prepared – so more useful substances are stored in it. During the day, you need to drink 500 ml of the product. The time of admission is independent of food intake.
When using any herbal preparations inside, the patient should carefully monitor his condition. If any side effects and negative reactions occur, treatment is immediately discontinued. If allergic reactions occur, it is recommended to consult a specialist.
External application
It is better to take herbal baths early in the morning or in the evening, you can not take therapeutic baths immediately after eating (only after an hour and a half)
Treatment of gout with herbs for external use is the safest. This method is much less likely to cause allergic reactions and has no side effects. Local application of funds is contraindicated in the presence of open wounds, as well as any violations of the integrity of the skin. Effective methods for treating gout are as follows:
Herbal compresses.
Rubbing the affected area with alcohol tincture of juniper.
Ointment based on birch buds.
Lotions based on linden or chamomile.
Poultice hot broth bones.
Apply a bandage soaked in a solution of juniper or meadowsweet.
From gout, there are many herbs that are effective for outdoor use. The following recipes are most commonly used:
Rubbing the affected area with aloe leaf. It is one of the safest ways and has no contraindications. It is necessary to use only young aloe, as it contains a large amount of nutrients. Before grinding, it is necessary to slightly incise the sheet so that juice protrudes from it. This method helps to improve blood circulation and has an anti-inflammatory effect. Aloe juice contributes to the accelerated regeneration and removal of puffiness.
Juniper tincture. Juniper fruits are infused in 100 ml of vodka for 2 days in a dark place, then the affected areas are rubbed with the resulting tincture. It is not recommended to use as a compress, as the appearance of local irritation is possible. In the absence of juniper fruits, it is allowed to replace them with lemon balm leaves.
Herbal baths. Effective in any localization of gouty disease. They help relieve swelling and redness, reduce pain, improve lymphatic outflow and blood circulation. The following are used as effective herbs for a healing bath:
Juniper.
Leaves of violet or thyme.
Chamomile.
Sage.
Oregano.
All components can be used together as well as separately. The bath is prepared at the rate of 50 grams of grass per 1 liter of water. Water temperature should not exceed 38 degrees. After the procedure, it is necessary to avoid hypothermia, to wrap yourself in a warm blanket. The course of therapy with therapeutic baths averages 10-14 procedures. Such a bath is absolutely safe, therefore it is allowed to take it daily.
It should be borne in mind that medicinal herbs have a positive effect only if all dosages are observed and as an additional method of therapy.
What herbs to drink with gout
The flora of our planet is so diverse that we do not always know about all the beneficial qualities of its ingredients. The most common ailment is gout. It carries a foundation that relies on a violation of metabolic processes. Excess uric acid promotes the accumulation of salts on the joints. To eliminate the negative effects of using synthetic products. But unlike them, herbs from gout do not have side effects. They can help strengthen immunity and improve the health of the body. The most important thing is to choose the right ones that will help solve your problem.
Medicinal herbs and their effects in gout
What herbs treat gout? To answer this question, it is worth knowing clearly what properties one or another plant raw material has. It is advisable not to start taking any fees or individual components on your own. the influence of one plant can have a positive effect, and in the second case it will have a negative effect on the concomitant disease. Therefore, it is initially worth going through a doctor's examination and passing certain tests. Then you can be advised exactly the list of plants that will help eliminate unpleasant symptoms.
The use of herbs helps to remove urate from the body. All medicinal plants in this case can be divided into two groups:
The first is drugs that are called "natural aspirin." Their action against inflammation can not be compared with any antibiotic. Most often these are: peony, meadowsweet, kiva.
The second – have steroid properties. These include: currant leaf, licorice, ledum. They are also powerful diuretics and painkillers.
Other active herbs for gout on the legs and other parts of the body are nettles, lingonberries, lilacs, a train, birch, tansy. Application fees to improve well-being in a few weeks. And to consolidate the positive result, you can take these liquids in the form of a drink for a long time. With exacerbations, you can increase the dose, but remember that everything should be in moderation.
Herbal recipes and uses
In folk medicine, there is a lot of experience in eliminating this problem. Among the list of drugs, you can choose the one that will have the greatest benefit. If possible, raw materials should be used fresh, but if there is no such, then dry is also suitable.
Healing fee
To prepare the collection of herbs for gout, take three parts of nettle, clover and rosemary, three-color violet and St. John's wort. Add two peppermint leaves and flaxseed. Another 4 herbs in a row and the same amount of lingonberry leaf. Separate a small amount in a thermos, cover 500 ml of boiling water. Let stand for a day. Drink a glass 5 times a day. Everything will take you 1/5 of a year.
Prefab broth
Use a decoction of herbs for gout from the following components:
20 g of Veronica officinalis grass, wheatgrass and succession roots;
25 g burdock;
30 g of violets.
Combine and separate 40 g of the mixture. Pour a liter of water and place on the stove. Let it boil for 15 minutes. Dose 20 ml 3-4 times. Solving the problem takes about a quarter of a year.
Diuretic collection
Another option for preparing diuretic herbs for gout is to mix an equal amount:
hypericum,
bearberry
knotty
bay leaf
kidney and Kuril tea,
yarrow
licorice.
Pour a couple of spoons of all components in a thermos and cover with a steep var. Let rest for at least 6 hours. Use 4-5 times a tablespoon. The duration of admission is a quarter. Repeat after a certain interval if desired.
Complex fee
Useful herbs for gout and elevated uric acid are ingredients of a complex composition. It includes:
4 parts of birch and hypericum;
3 minced horse chestnut, Jerusalem artichoke, violets;
2 linden, calendula, chamomile, pine needles, parsley, amaranth, nettle;
as well as part of the centaury.
Pour a handful. Cover 1/4 liter of boiled liquid. Let rest for half an hour. Drink between meals. The minimum rate is a quarter of a year.
Galangal tincture with saber
The alcohol tincture of the marsh cinquefoil and sea otter proved to be not bad. The most optimal is 100 g per 200. Transfer to a jar and pour 3 liters of alcohol. Insist a month in a darkened room from sunlight. After the allotted period, pass through the filter and drink thrice 1⁄2 – 1 tbsp. l Dilute in 100 ml of water for a month. At the end of the term – a week pause. If the disease has passed into the chronic stage, then 5-6 repetitions may be required.
Means of external application
In addition to the use of medicinal products based on plants inside, traditional healers advise to apply externally: rubbing, compresses, baths to achieve maximum effect.
Baths with salt and chamomile
As an external treatment for gout with herbs at home, a combination of 100 g of chamomile and a glass of salt is not bad. These components pour 0,25 liters of water and allow to boil, cook for 30 minutes. Thus, a solution for baths is ready. They need to be carried out no more than 20 minutes. The fluid should be warm.
Chamomile compress with elderberry
You can also use compresses from chamomile flowers and black elderberry. Pour all the peeled aqua and boil. As soon as the process starts, immediately remove it. Cool to an acceptable temperature and moisten a cut in it. Overlay on a harassing place.
Massage with resin
Regular massages with the use of cedar resin based turpentine balm can help improve the well-being of patients. They spend 10 sessions every 2 months.
To prepare this substance, it is worth grinding gum. Preferably as small as possible. Take 5 g and put in a pan. Pour in 100 ml of vegetable oil. Place in a water bath and let everything turn into a homogeneous mixture. Then pour into a clean container through gauze folded into several layers. The shelf life corresponds to the shelf life of the vegetable oil that is included.
But in order not to complicate yourself with cooking, you can buy a ready-made product in a pharmacy.
Remember that effective herbs from gout will increase their beneficial qualities several times in the case of an integrated approach to solving this problem. This includes feasible physical activity, and proper nutrition.
Immunology and biochemistry
Gout Herbal Treatment
Treating gout (P) with herbs has a long tradition. Medicinal herbs are often the only salvation for patients with gout, alleviating its symptoms.
Acute Gout and Herb
For the treatment of acute attack P, there is only one medicinal herb with a pronounced effect:
Autumn crocus or colchicum, it is colchicine.
Commercial colchicine preparations usually contain dried autumn crocus extract. The most common drugs are in the form of tablets and drops. Since the plant is very toxic, the drugs are dispensed strictly by prescription. Colchicine has a pronounced anti-inflammatory and indirect analgesic effect. Colchicine in an acute attack of P reliably relieves pain.
Dosage. Colchicine has a narrow therapeutic index (therapeutic dose and toxic dose are very close). Unless otherwise specified in the instructions for the drug, for an acute attack of gout, the drug is taken orally at a dose corresponding to 1 mg of colchicine, and then 0,5-1,5 mg every 1 to 2 hours until the pain subsides. The total daily dose should not exceed 6 mg of colchicine. The duration of treatment is not more than 3 days.
At lower doses, up to 1,5 mg per day, for three months, colchicine can prevent acute attacks of gout.
Side effects: diarrhea, nausea, vomiting, abdominal pain, leukopenia, skin changes.
Very carefully prescribe colchicine preparations for the elderly and debilitated patients and patients with heart, kidney or gastrointestinal diseases.
There are preparations for colchicum and in the arsenal of homeopaths.
Herbs for long courses of prevention and treatment of gout
For long-term use in order to reduce uric acid levels, there are hundreds of traditionally used medicinal herbs. But each of these plants is not really well suited to treat gout. Previously, there was no difference between P, rheumatism and arthritis. Any medicinal herb with a diuretic effect was used to treat gout and rheumatism. However, diuretics do not always contribute to the treatment of gout. Only those medicinal herbs that have a mild diuretic, anti-inflammatory, possibly analgesic and analgesic effect make sense.
It is also important in the treatment of P with diuretic herbs to prevent dehydration. To do this, it is useful to drink two glasses of water for each cup of herbal tea three times a day.
Attention! When a person suffers from kidney failure (kidney failure), you should not drink diuretic teas.
Herbs in a home medicine cabinet for treating gout
Horsetail has a strong diuretic and blood cleansing and anti-inflammatory effects. These plant properties determine its effectiveness in the treatment of gout.
Angelica, angelica officinalis
Angelica or angelica officinalis with gout cleanses the blood and relieves inflammation.
Nettle with P is useful in that it enhances metabolism and urination, cleanses the blood. It can help a little with diabetes. Therefore, nettle is very useful for complicating diabetes with gout.
Goldenrod is a classic medicinal herb for the kidneys. On the one hand, it acts as a diuretic and cleansing blood, on the other, as an anti-inflammatory. These two properties determine the usefulness of goldenrod in P. Also goldenrod helps with diabetes and is a useful supplement for the combination of gout and diabetes.
Chamomile is a useful medicinal plant for almost any disease. Due to its ability to purify blood and a light diuretic effect, chamomile is useful for gout. Chamomile has a strong anti-inflammatory and analgesic effect. In addition, chamomile reduces the level of uric acid in the blood. It relieves pain in joint inflammation.
Yarrow has many common properties with chamomile. In addition, it is a very versatile medicinal herb. With gout, its properties such as its ability to enhance blood and lymph circulation, purify blood, suppress inflammation, and prevent the deposition of uric acid in the joints are useful. Yarrow has a specific therapeutic effect in diabetes.
Licorice root, which has a sweet taste, exhibits many medicinal properties for gout: blood purification, diuretic and anti-inflammatory. Licorice even has some analgesic effect. If you have high blood pressure, you can't use licorice.
The African Devil's Claw plant has been popular in recent years as a cure for arthritis. This herb has anti-inflammatory, decongestant and analgesic effects. Therefore, the devil's claw can be used as a cure for gout.
Preparations of this herb are widely available in online pharmacies.
Juniper berries are better known as spice. But they are also a universal remedy. Juniper berries are able to purify blood and increase urine output, stimulate metabolism and relieve pain. Since juniper berries have a pleasant, spicy and sweet taste, they are useful in tea blends for gout.
Herbal Tea Gout
Tea collection allows you to combine the effect of several medicinal herbs useful for gout. Possible side effects that plants may have when used individually are prevented in combination. In the proposed tea collection, 100 grams of grass is collected, from the mixture of which tea is prepared.
Herbal tea is prepared as follows:
Take one teaspoon of herbal mixture per cup
Herbs pour boiling water
Insist tea for 10 – 15 minutes.
Then filter.
Tea is drunk in small sips, best unsweetened.
Then you should drink one or two glasses of water so that the kidneys have enough water to dissolve uric acid.
Tea collection for gout is prepared from the following herbs
20 g angelica root
20 g juniper berries
10 g horsetail herb
10 g nettle grass
10 g of goldenrod grass
10 g of chamomile grass
10 g yarrow herb
10 g licorice root
With hypertension, licorice root should be discarded. Instead, you can increase the amount of angelica root.
Medicinal herbs are included in the collection due to the following effects in the tea mixture:
• angelica: as a blood purifier and anti-inflammatory
• juniper: blood purifying, diuretic, analgesic
• horsetail: blood purification, anti-inflammatory, diuretic
• nettle: blood purifying, diuretic
• goldenrod: blood purifier, diuretic
• chamomile: blood purification, anti-inflammatory, analgesic
• yarrow: blood purification, anti-inflammatory, diuretic
• licorice: blood cleansing, anti-inflammatory, analgesic
This tea pick can be applied for six consecutive weeks. After that, you should take a break of one to three weeks, and start again. A break is necessary in order to make sure the effectiveness of collecting herbs specifically for you.
If you wish, you can prepare your tea mixture for gout, making it from herbs that have a mild diuretic, a pronounced anti-inflammatory, analgesic effect and the ability to lower the level of uric acid in the blood.
Herbs for gout: what and how to use. Folk recipes
If you begin to worry about pain in the joints, and unusual growths appear on your legs and arms, this is most likely a sign of gout, a disease that begins due to metabolic disorders and salt deposits. Doctors call the main cause of gout, also called the "royal disease", gluttony and abuse of strong drinks. And therefore, people with this problem need to follow a diet prescribed by a specialist. Another good way to relieve symptoms and reduce inflammation is with herbal medicine. Today we offer to talk about the treatment of gout with folk remedies at home!
Important information
Of course, with the regular use of those herbal remedies, which we describe below, you can stop even acute bouts of gout. However, it is important to remember: before using any means based on medicinal plants, you must consult a rheumatologist!
How to take herbs for gout
With this disease, you need to regularly remove salt from the body. Only pure water can not cope with such a task. Herbs will help to activate the cleansing process. With the constant use of tinctures, decoctions and teas, the removal of urates begins – this is the name of the uric acid salt. It is important to understand that you need to drink certain herbs that have anti-inflammatory effects. For example, among the best medicinal herbs for gout are peony, meadowsweet, nettle, succession, Ivan tea. It is worth noting that properly selected herbs and fees will not only help relieve joint pain, but also protect the body from the spread of the disease. Let's say right away – it will not work out of the symptoms of gout in a few days, you will have a long course of treatment!
Blooming Sally
Ivan tea belongs to the family of fireweed, but because the people can hear one more of its name – narrow-leaved fireweed. This plant is called a down jacket, mother liquor, willow tree. The fully healing properties of Ivan tea have not yet been disclosed, however, it is known that it helps in the treatment of a variety of diseases. Herbalists say: this herb is indispensable for gout, because it prevents the development of inflammatory processes. Among its medicinal properties, anesthetic effect, movement facilitation, cleansing effect, normalization of metabolic processes, and increased immunity are noted. Ivan tea quickly enough removes excess salts and uric acid from the body. The thing is that this plant contains tannins, flavoinides, various macro- and microelements.
The use of Ivan tea for gout
If you are ready to lead a healthy lifestyle, you should simply replace the usual drinks (such as coffee, black or green tea) with Ivan tea. This drink does not contain harmful substances, in its composition there are no purines, caffeine and oxalic acid. In order to recover and relieve pain in the joints, it is necessary to prepare willow tea as follows: take a small thermos, pour a tablespoon of dry grass into it and pour hot water on it. Thermos must be left overnight. In the morning you will receive a deliciously aromatic drink with a pleasant taste. Please note: it is necessary to take infusion from this herb for gout in small doses, always in small sips. You can prepare an anti-inflammatory infusion from willow tea: one milliliter of cold water will be needed for one spoon of a dry plant. Such a composition must be brought to a boil, boiled for 250 minutes and left to infuse for a couple of hours. Drinking ivan tea prepared in this way can be both warm and cold.
Lingonberry
Speaking about the treatment of gout with folk remedies at home, one can not help but say about the beneficial properties of lingonberries. The leaves and fruits of this plant have diuretic and antibacterial properties, and therefore are indispensable in the treatment of "royal disease". By the way, phytotherapists advise using folk remedies from lingonberries not only to those who have already encountered this problem, but simply as a preventative measure!
To prepare the medicine, it is necessary to prepare two tablespoons of lingonberry leaves (it is best to grind them beforehand), pour them with a glass of hot water and insist in a thermos for two hours. After this, you need to carefully strain the mood and add warm water so that once again you get one glass. You need to take such a tool immediately before meals three times a day. A single dose is one tablespoon. The course of treatment should be three weeks. Please note: the finished infusion can be stored for no more than two days. Among the contraindications phytotherapists note heartburn, acute cholecystitis, gastritis. Allergic reactions are not excluded.
Another folk remedy for gout is prepared from lingonberry berries. Two tablespoons of fresh fruit will need a glass of boiling water. Simmer over such a fire in just 15 minutes. After this, the medicine should be infused for an hour and drunk throughout the day. An important point: you should prepare a new medicine every day.
Orthosiphon stamen
The leaves of the plant, better known as kidney tea, have a powerful diuretic effect, they help to remove chlorides, uric acid from the body, and increase bile secretion. It is worth noting that the leaves of the stamen orthosiphon act as a sedative. You can make an infusion from them: you need to combine three tablespoons of leaves and a glass of hot water in an enameled bowl. This composition should be boiled over low heat for 15 minutes, then refrigerated, after 45 minutes strain through cheesecloth. Then add boiled water to make a whole glass again. It is necessary to take this infusion 2-3 times a day for half an hour before eating. A single dose is ½ cup, the course lasts a whole month.
Such a folk medicine has a number of contraindications, including age up to 12 years, an allergy to the components that make up the plant. Do not take this remedy for stomach ulcers.
Blueberries
As in the case of lingonberries, shoots and blueberries are suitable for treating gout. The fact is that this plant is characterized by a high content of tannins and pectin substances, organic acids, vitamins and trace elements. Blueberries are able to remove salts from the body, which allows phytotherapists to recommend them for rheumatism and gout. Eating berries is best fresh. But the blueberry shoots are ideal for preparing an infusion that allows you to relieve inflammation, reduce pain. It is necessary to connect a tablespoon of crushed shoots with a glass of boiling water, and then insist in a thermos for at least an hour. You need to take such a medicine three times a day in half a glass. It is important to do this while eating. You should not take the infusion during pregnancy, the presence of an allergy to blueberries.
Birch buds
Wondering what to drink with gout? Birch buds are also suitable for treating joint diseases. Their anti-inflammatory qualities even surpass the properties of the flowers of a plant like black elderberry. And in the kidneys a lot of volatile, tannins and essential oils. Preparation of the infusion will not take much time: for one glass of boiling water you will need a tablespoon of kidneys. Infuse the kidneys for at least one hour. Warm infusion should be taken daily – 3-4 times after a meal. The course of treatment should be continued for three weeks.
Special attention deserves burdock. The medicinal properties and use of this plant will defeat gout. The plant contains a huge amount of vitamins, proteins, essential oils and organic acids. Burdock root and leaves strengthen immunity, remove harmful substances from the body. Moreover, burdock anesthetizes. Speaking about the medicinal properties of burdock and its use in the treatment of gout, it should be said that the use of this plant may be unsafe. The fact is that you can not use drugs based on this plant for a long time. The course of treatment must be carried out at long intervals. We bring to your attention a recipe that helps to get rid of unpleasant symptoms: you need to chop the leaves of burdock, you need 500 grams of pulp. To it you need to add half a liter of quality honey and as much vodka. Mix the composition thoroughly, put in a dark warm place. Take this herbal remedy three times a day. This is best done in the morning on an empty stomach. The recommended dose is a tablespoon.
Nettle
Until now, in some localities, such a treatment method as "chirping" has been preserved – beating stinging spots with nettles. This method is unpleasant, but incredibly effective: it helps with arthritis and radiculitis. The thing is the high content in the nettle of formic acid, vitamins and histamine. How to use nettle for gout? It is necessary to combine the three parts of the leaves of the nettle dioecious, the same amount of forest strawberries. To this composition, it is necessary to add two parts of birch leaves, a burlap and corn stigmas. Then you need to mix the herbs, take one teaspoon and pour a glass of hot water. Thirty minutes later, the infusion must be filtered, take a third of a glass a day. The full course of treatment will be 30 days.
Gather Herbs
No less useful for gout and infusion made from herbs such as mint, ledum, St. John's wort, violet, nettle, string, lingonberry and flax seeds. All components must be taken in equal amounts, mixed. A couple of tablespoons should be poured with boiled water and left for 24 hours. You need to drink 500 milliliters of tincture daily.
External treatments
No less useful for gout baths and compresses. You can cook them at home. For example, chamomile is suitable for the treatment of this disease: for 100 grams of dried flowers you will need 10 liters of water (you need to take cold) and two tablespoons of salt.
Chamomile must be infused for two hours, after which it is necessary to warm the composition and make baths. Plants such as rosehip berries, sage, rue, blackcurrant will also help reduce pain, eliminate the feeling of heaviness, muscle cramps.
Herbal Gout Treatment
In order for the treatment of gout to be effective, in no case should you neglect the recommendations of the attending physician. However, it is possible to supplement therapy by using a complex of medicinal herbs. It is necessary to consider which herbs for gout are best used, and what methods of their application exist.
Herbs to fight pain
Some plants have a mild effect on the human body and give results only with prolonged use. Most often, such a treatment is necessary for gout. However, this disease can periodically cause severe bouts of pain. And there is grass that can help in such a situation.
Only one plant has a powerful analgesic effect – in autumn crocus, or colchicum. Another name for the herb is colchicine. Due to the toxic effects on the body in pharmacies, it is sold only by prescription.
Colchicum has a strong anti-inflammatory and analgesic effect. Therefore, with the help of a flower, you can stop a gouty and painful attack.
Colchicum need to be correctly dosed. The range of the amount of substance between the therapeutic and toxic effects is extremely small, so an overdose can be dangerous.
The plant is not recommended for patients who have a weakened body, as well as the elderly and children. An absolute contraindication to use is pregnancy and lactation.
The plant can not be used for more than three months. The recommended dose is 1,5 mg once daily. Better to use as an ambulance method. Colchicum is ingested in the amount of 1 mg of the substance, and then 0,5 mg every 2 hours until pain disappears. Although this is the best herb for gout and severe pain, it cannot be taken at this dosage for longer than three days.
Herbs with anti-inflammatory effect
Treatment of gout with herbs should be carried out regularly and for a long time. All plants of this category can be divided into two groups:
Containing salicylates;
Containing substances, the structure of which resembles steroids.
The first category of medicinal herbs used for gout include the following:
The meadowsweet is differently called meadowsweet. This plant is rich in tannins and essential oils. A homemade preparation is taken for 2-6 weeks. The infusion is prepared as follows:
2 tablespoons of meadowsweet must be poured with a liter of water;
Boil;
Cook for 20 minutes;
Insist 40 minutes.
Ready-made remedy from herbs to take 100 ml twice a day. The result will be only with prolonged regular use.
Peony is rarely prepared at home, usually the product is bought ready-made. Take herbal infusion 30 drops before each meal.
Gray willow is suitable for both indoor and outdoor use. To prepare a decoction, you need to boil a spoonful of bark in 500 ml of water and insist in a dark place for 8 hours. After that, the whole composition should be drunk over the next day. 8 hours before the end of the day, you need to prepare the next portion of the infusion, so that the required number of hours passes.
Medicinal plants for gout, belonging to the second group, are taken quite often. It can be the following herbs:
Licorice
Nightshade;
Currant leaf;
Yellow gentian;
Swamp rosemary.
All these herbs contain substances that are similar in structure to the structure of steroids. Consider the recipe for the preparation of medicinal formulations of licorice and nightshade.
Tincture of gout from licorice has an anti-inflammatory, mild analgesic and restorative effect. Grass has a beneficial effect on the whole organism, making it more resistant to external negative factors. Apply as an independent therapeutic agent, and as a component of different fees.
Licorice root is applied as follows:
The root needs to be chopped;
Dilute in a liter of water 2 tablespoons of the mixture;
Boil for an hour.
The finished drug is taken for up to two months, ½ cup four times a day. Some patients do not buy the root, but the finished extract. The therapeutic agent in this case is prepared as indicated in the instructions.
Nightshade can quench mild pain and relieve inflammation. Infusion can be prepared as follows:
Take 5 g of herb per ¼ liter of boiling water;
Mix the components;
Insist 4 hours in a thermos.
Take grass in a spoon if necessary. With long-term treatment, only twice a day is enough.
Using herbs to lower uric acid levels
There are plants that are especially useful for diseases of the joints of the legs. When deciding which herbs to drink with gout, one should not forget about those that lower uric acid levels – the main reason for the development of pathology.
The main herbs and plants used in gout to normalize uric acid:
Buds of birch;
Birch leaves;
Lingonberry berries.
All these components can be taken either individually or in the form of fees. The complex effect is achieved faster.
Birch buds are prepared as follows:
Collect and wash the raw materials;
A glass of water is enough 5 grams of kidneys;
Boil for 15 minutes;
Insist for an hour;
Try to keep warm.
Before use, the therapeutic infusion should be traced. Take a quarter cup after each meal.
From birch buds for the winter, you can prepare an alcohol infusion – it is stored longer. 30 grams of raw materials will require a liter of alcohol. Insist 2 weeks. Take tincture of 10-20 drops three times a day, previously dissolved in a small amount of clean water.
When using birch leaves for the composition, wash and dry 50 grams of raw materials. Pour half a liter of cool water and leave for 5 hours. Strain, take 50 g 3-4 times a day.
Lingonberry berries are taken in any form. They are good fresh, boiled or soaked. An infusion is prepared from the leaves of the plant, pouring a spoonful of raw materials with a glass of boiling water. Take half a cup several times a day.
You can make herbal tea for gout, consisting of the following ingredients:
All herbs to combat gout should be taken in equal proportions. Pour boiling water, insist about 7-8 hours and take inside. Such tea is best taken during the day, as it has a diuretic effect.
External use of herbs for gout
Traditional medicine also includes many recipes for the external use of herbs for the treatment of gout. Patients successfully apply a variety of infusions, rubbing ointments and baths.
The following methods of using herbs have proved their effectiveness:
Poultices hot broth bones;
Lotions with a decoction of linden blossom;
Applying compresses from water tincture of horseradish;
Lotions of alcohol tincture of sunflower;
Rubbing tincture of juniper;
Applying napkins moistened with tincture of lemon balm;
Vaseline ointment with poplar buds.
When gout is good to use aloe. This plant has a powerful anti-inflammatory effect and normalizes blood microcirculation. Aloe vera activates the immune system and triggers regeneration processes.
The plant contributes to the rapid excretion of uric acid crystals, which are deposited in the joints and cause changes in them.
Aloe infusion is prepared like this: you need 70 g of fresh juice, 100 g of honey and 170 g of red wine. The ingredients must be mixed and infused for a week. The drug should be taken orally before meals.
The use of bearberry helps to reduce inflammation and produces a diuretic effect. A decoction is prepared by grinding the leaves of the plant and the bay with boiling water. If the composition is insisted, it can be used externally, applying to the affected joint.
Cinquefoil is used for gout in the form of lotions or inside. Dry leaves are washed and cut, poured with vodka and insisted for 3 weeks. Take a spoonful three times a day. The recipe is also suitable for outdoor use.
Herbal medicine for gout will be effective if the treatment is carried out systemically and regularly. A single intake of herbs will not give a result. Any alternative therapy with herbs must be agreed with the doctor, and in case of herbal medicine, do not stop taking the prescribed medications.
What herbs to use to treat gout
With increased uric acid
You can start treatment for gout with herbs at any stage of the disease. The maximum effect is obtained in the first stages, when the disease is not yet exacerbated. Since the symptoms of gout are associated with the accumulation of uric acid in the body, it is first necessary to stop its production, and also to wash out already accumulated harmful substances from the joint. Both collection and decoction of certain herbs, such as lingonberries, lilacs, tansy or nettles, can help.
Burdock with gout is used not only in the form of a drink, but also in compresses. Treatment of arthritis and gout with the help of burdock root cleanses the joint from excess salts, eliminates swelling and promotes blood microcirculation. The recipe for cooking is simple: the root is cleaned from the remnants of the bark, crushed, add 1 tbsp to a glass of water. l burdock, bring to a boil, simmer for a quarter of an hour over low heat. The resulting broth is cooled, filtered. If a decoction of burdock is drunk twice a day for 3 weeks, you can significantly improve your health and reduce the likelihood of exacerbation.
Ivan tea with gout is used as follows:
compress. Soften the root in hot water, wrap in a napkin and attach to the joint;
tea. Brew in 0,5 l of water 2 tbsp. l dry grass, insist 10 minutes;
decoction. Insist in a glass of boiling water 20 g of herb. Strain, drink 1 tbsp. l after meal.
To reduce the concentration of purine compounds, drug collections help a lot. You will have to drink herbs from gout for a long time, but the result has a lasting effect. Recommended formulations:
Grind watermelon seeds, juniper and rosehip fruits taken in equal proportions in a coffee grinder. Pour 6 tbsp. l mix a liter of boiling water, insist a quarter of an hour. Drink 75 g twice a day for a week.
Mix 4 tbsp. l Cinquefoil, 2 tbsp. l mountain birch bird, 4 tbsp. l St. John's wort, 3 tbsp. l elderberries and goldenrod. The finished mixture in the amount of 1 tbsp. l pour a cup of hot water, insist for half an hour, filter. Take 75 g 15 minutes before meals 3 times a day. This herbal remedy helps relieve pain with gout due to the rapid leaching of urate.
Mix equal amounts of lingonberry leaves, lime blossom, raspberry leaves and chamomile. Brew tea, drink up to 0,5 liters per day.
With anti-inflammatory effect
Dying with gout helps to eliminate inflammation due to the mild diuretic and fungicidal effect, while there are no difficulties in the recipe: pour a spoonful of herbs with boiling water, insist, filter and drink a tablespoon.
In case of exacerbation, it is recommended that the concentration of dreams be doubled. The ground part of this plant contains vitamin C, manganese, iron and copper. The joints are also rubbed with freshly squeezed juice or apply compresses to the leg.
It is also recommended to drink 100 g three times a day the following fees:
Ledum, clover, St. John's wort – 3 tbsp. l .;
lingonberry, succession, violet – 4 tbsp. l .;
flax seeds, nettle leaf – 2 tbsp. l
dandelion root, blueberry leaf – 3 parts each;
flax seeds, hop cones – 3 parts;
tansy color – 1 part;
St. John's wort, knotweed – in 4 parts.
In a thermos pour 2 tbsp. l Collect and pour boiling water overnight. The course of treatment is at least 2 months.
Therapeutic effect for external use
Herbs with gout on the legs can be used not only inside. Effectively help ointments, teas, poultices homemade:
a mixture of vegetable oil and chamomile helps relieve joint soreness. The flowers of this plant are tightly stuffed in a jar, filled with oil, covered with a lid and insisted in the cellar for 40 days. Then the infusion must be heated for a couple of 2 hours. After cooling, the mixture is filtered, add 10 g of camphor and mix. Rub into the joint twice a day;
when treating gout with herbs, you can prepare an ointment from 2 tbsp. l soft butter and 1 tbsp. l poplar buds. The components are mixed and insisted in a warm place for at least 3 days. Rub into the joint three times a day;
for medicinal baths, hop cones are used. 100 g of the finished product is poured 5 l of boiling water, insist in heat for 4 hours. Before taking the water procedure, the infusion is filtered and added to the bath.
from tofus helps compress with elderberry and chamomile. The flowering part of these plants is mixed in equal proportions, filled with hot water and brought to a boil. Then the broth cools, gauze is moistened in it and applied to the nodule;
grate horseradish, put the pulp on a sheet of burdock, cabbage or coltsfoot, attach to the joint and secure with a bandage.
Video "How to treat gout"
In this video, the expert will talk about ways to treat gout.