The profile of the Plissa sanatorium is focused on the treatment of diseases of the musculoskeletal system, improving blood circulation in the damaged area, eliminating congestion and relieving muscle spasm. Modern treatment methods combined with the use of sapropelic mud can successfully treat degenerative and rheumatoid joint diseases.
The result of complex treatment will be a significant improvement in the general condition, relief or complete relief from pain, gaining flexibility and mobility.
№ p / p
Name of procedures

Number of procedures
with duration
8 nights course

1
Neurologist or orthopedic consultation
3
2
Phytotea, collection No. 1 (morning)
8
3
Phytotea, collection No. 2 (evening)
8
4
Drinking mineral water
daily
5
Massage of the spine, 25 minutes
4
6
Carboxytherapy (20 injections)
4
7
Underwater horizontal spinal traction or shock wave therapy
4/2
8
Two hardware physiotherapy: laser therapy; pulse therapy:
SMT, DDT; galvanization; drug electrophoresis;
local magnetotherapy SETA; ultrasound (phonophoresis); darsonvalization;
microwave therapy
4
9
Sulfur therapeutic baths or therapeutic baths "Skipofit yellow according to Zalmanov", or mineral baths with hydromassage
4
10
Mud therapy: mud baths with bromine mineral water or mud applications of fulvic or sapropelic mud
4
11
4-chamber galvanic baths or jet-contrast 4-chamber baths
4
12
Therapeutic exercise
6
Procedures are distributed in proportion to the number of days of stay.
* When you arrive at the Plissa sanatorium complex, you must have a sanatorium card or an expanded extract from the ambulatory card with diagnoses, examinations and medical reports with a referral to the sanatorium treatment.
** In the absence of a spa card or an extended extract from an ambulatory card, examinations (ECG, general blood count, general urine test, blood sugar, general practitioner consultation) are carried out for a fee.
*** The sequence and duration of the procedures is assigned individually for each guest according to the results of the examination and in the absence of contraindications.
If you need to consult on issues related to medical procedures, you can send them to the email address med@plissa.by
You can find a list of general medical contraindications that exclude referrals for spa treatment here.
Sanatoriums in Belarus joint treatment
Medical base
Treatment in the sanatoriums of Belarus is carried out by highly qualified medical personnel. At the same time, material and technical equipment in the health resorts of the country is at the highest level.
Treatment in the sanatoriums of Belarus will help to forget not only about chronic and chronic diseases. Here quite successfully diagnose and prevent the development of new ailments.
Each patient is given an individual course of treatment. The list of specific procedures is selected depending on the age and constitution of the body, bad habits of the patient.
Doctors in the sanatoriums of Belarus sincerely and carefully treat each patient. It is worth saying that the main focus of the Belarusian health resorts is precisely medical treatment.
They do not focus on additional services and various entertainment. This pleases those who are especially in need of improvement, and serves as a positive factor that allows you to make the final choice of the institution for the cure of illnesses.
Chinese joint plasters: composition, indications for use, price
Not only a wonderful vacation and the most effective treatment affect the choice of those who are planning to go to a sanatorium in Belarus. One of the important factors is the price of the permit.
It is worth saying that visiting Belarusian sanatoriums will cost much less than rest and treatment in similar health resorts in Russia, not to mention the far abroad. So, one day in a similar institution costs one and a half thousand rubles.
Is it possible to compare the harmony of body and soul that is found in cozy Belarus with expensive spa hotels where they do not treat, but only empty their pockets? Health resorts of the country neighboring Russia are equipped with the latest medical equipment.
In addition, the treatment there is carried out by specialists of the highest class using the most advanced technologies. That is why the health resorts of Belarus are the choice of the person who really cares about maintaining their health and wants to find an alternative to the well-advertised spa service in Asia and Europe.
Accommodation and leisure
A large number of Belarusian resorts offers vacationers to stay in comfortable rooms, which have elegant furniture. Many resorts have indoor pools, restaurants with national cuisine, tennis courts, etc. It also affects the popularity that the health resorts of Belarus have won.
Feedback from visitors to these resorts suggests that clean air, as well as an extremely calm atmosphere, miraculously affects not only the physical health of a person. All these factors contribute to the creation of mental comfort.
Sanatorium "Belorusochka"
One of the most common endocrine diseases is diabetes. Unfortunately, recently this pathology is observed not only in the elderly, but also in children.
To get rid of diabetes, a medication is offered. But there is another way out – health resorts of Belarus. Treatment of diabetes is performed in the health resort "Belorusochka". It stands in the middle of a mixed coniferous-birch forest, on the very shore of the Drozdy reservoir. This health resort is located near Minsk (only seven kilometers).
The sanatorium "Belorusochka" is the only one in the Republic of Belarus specializing in the treatment of metabolic disorders and diabetes. It pays great attention to physical therapy. This takes into account the physical condition of the patient.
In the sanatorium "Belorusochka", natural healing factors (fresh air and amazing nature) are used to improve the health of vacationers. They can calm the cardiovascular and nervous system, improve the metabolic processes of the body and activate the immune system. All this contributes to the cure of diabetes.
Sanatorium "Forest"
According to medical statistics, today diseases of the digestive system are widespread. Moreover, they are observed in people of different ages.
To eliminate such ailments, it often takes many years, and some patients have to put up with pathology all their lives. Health resorts in Belarus provide good help in eliminating gastritis and other diseases of the digestive tract.
Digestive organs are treated here by competent medical personnel who strive to create all the necessary conditions to eliminate the ailment.
Sanatorium "Sosnovy Bor"
This health resort is located only ten kilometers from Minsk. It stands surrounded by a majestic pine forest, on the very bank of the Rybchanka River. Those who have ever visited this place, note its picturesque landscape with many ponds and clean air. All these natural factors make it possible not only to have a great rest, but also to heal effectively.
Sosnovy Bor is a sanatorium (Belarus) that specializes in the treatment of cardiac diseases. Reception of patients is conducted by an experienced specialist. In addition, the sanatorium has all the necessary equipment, which is intended for the treatment, as well as the prevention of pathologies of the digestive system and respiratory system, blood circulation and metabolism, as well as the central nervous system.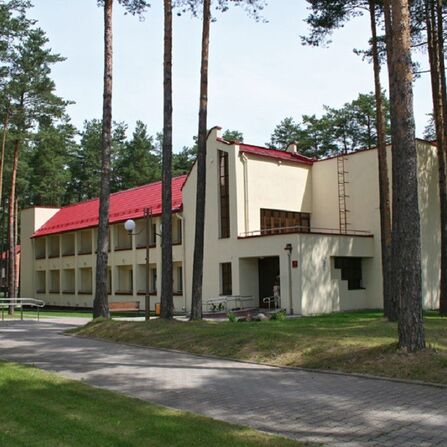 The doctors are on duty around the clock, who will provide medical care to patients if necessary.
Sosnovy Bor (sanatorium) is equipped with modern dental equipment. Belarus purchased all units in the United States.
The doctor may prescribe magneto-or laser therapy, electrophoresis, as well as other types of electrotherapy. The sanatorium has an office of such procedures as acupuncture and reflexology. Patients can get an appointment with an obstetrician-gynecologist who, in addition to a routine examination, performs an ultrasound scan and, if necessary, prescribes a course of medical and restorative procedures.
Treatment in Belarus, sanatoriums in Belarus with treatment
Karlovy Vary
The most popular Czech spa specializing in diseases of the gastrointestinal tract.
Arrivals: daily
Duration: any
Cost: from 27280 rubles / person
Heviz
Mariánské Lázně
The second largest Czech resort, famous for its multidisciplinary treatment.
Arrivals: daily
Duration: any
Cost: from 28890 rubles / person
Sanatoria in Belarus with treatment
The country is located between the West and the East, where our friendly neighbors live. Belarus has a fairly high level of service in the field of tourism and recreation. There are many beautiful places for recreation and recreation. Many who have visited Vitebsk or Brest talk about cozy small streets that do not differ from the streets of European cities. Today in Belarus, the field of health tourism is actively developing. You can choose the sanatoriums in Belarus with treatment on the pages of our website. We offer the best options for treatment and relaxation in Belarus.
In many health resorts in Belarus, treatment includes therapeutic mud, mineral water and speleotherapy. Mineral water is provided in bottled form or in pump rooms.
You can rest and be treated in the sanatoriums of Belarus at any time of the year. Sanatoriums can be highly specialized or full-fledged health centers.
Treatment in Belarus can be done in such cases:
Respiratory diseases.
Diseases of the nervous system.
Improvement of the circulatory system.
With gynecological diseases and infertility.
Urological diseases.
Treatment for damage and defects of the musculoskeletal system.
Treatment of the spine in the sanatoriums of Belarus
Treatment of the spine in the sanatoriums of Belarus is carried out with the participation of experienced doctors and the availability of x-rays and MRI data. After examination and consultation of specialists, a treatment course is prescribed, if necessary, surgical intervention and the rehabilitation period.
Recently, Belarusian sanatoriums are in great demand among Russians. Vouchers are ordered to the sanatorium, which treat diseases of the joints and spine. Pleasant climate and clean air, beautiful nature and friendly atmosphere make it possible to forget about the presence of a chronic disease. The healing properties of local mineral water and mud can effectively treat many diseases of the spine and joints. The composition of these natural products is richer than that of many pharmaceuticals. The activity of the components of mineral water and mud allows you to heal many ailments.
Belarus has rich natural resources and a favorable climate. Remembering this country, a picture of vast forests, Belovezhskaya Pushcha, many rivers and lakes is mentally drawn. In this country there are many resort areas, sanatoriums and medical institutions.
This is a large list of resorts and pensions, which are concentrated in several regions of the country.
The high level of service and the experience of doctors make it possible to treat diseases of the circulatory, cardiovascular and respiratory systems, and you can also undergo treatment of the musculoskeletal system. If you find it difficult to choose a sanatorium for treatment in Belarus, then contact us by phone. We will help you choose a sanatorium in Belarus, the profile of which will correspond to your disease or doctor's prescriptions. You can have a good rest, gain strength and improve your health.
Treatment in Belarus
The health-improving program in sanatoriums is different and includes the following methods and procedures:
Mud cure is a method of treating and healing the human body using the natural and healing properties of mud. This is an unusual swamp from a puddle, and mud containing useful minerals and other chemical elements provided to it by nature.
Ozokerite-paraffin treatment is a treatment procedure based on thermal effects on the body. It has a warming effect for joints, relieves muscle tone, increases muscle elasticity and much more.
Inhalations are respiratory treatments for various diseases. Inhalations can be different, and therapeutic substances for inhalation are prescribed by a doctor.
Electrotherapy is a technique that uses electric discharges to treat various diseases. Direct or alternating currents may be used. Electrophoresis refers to a type of electrical treatment.
Phytotherapy – treatment with herbs and other natural substances. Herbal medicine has recently become especially popular. Nature has everything to cure a person of any disease, you only need to use these gifts correctly.
Therapeutic massages allow you to relieve stress and relax. Professional massage therapists can solve many health problems in one course.
Physiotherapy exercises are very necessary for the patient to undergo treatment and rehabilitation correctly. Playing sports every day, you can improve the quality of your life and improve your health. Health is the most expensive that a person has! It is worth taking care of him.
Dietary nutrition – prescribed by a dietitian, taking into account the symptoms of the disease and the physiological condition of the patient.
Mineral water is one of the natural resources of Belarus. The composition of the water is close to Naftus, Matsesta and other mineral waters.
Many resorts have their own base of tourist and sports equipment, which allows vacationers to spend time with benefit. If this is the winter period, then you can go to the ski base and ride on the snowy slopes. In summer, a more extensive entertainment program: tennis, cycling, hiking, walking in the forest and much more.
On the pages of our site you can order a tour – treatment of the spine in the health resorts of Belarus. If you need sanatoriums in Belarus with the treatment of other diseases, then you should contact our managers to help you make a choice.
You can order treatment in Belarus from us by phone +7 (812) 449-08-89.
Reviews
Review of Catherine N.:
She rested and underwent treatment at the Sosny sanatorium, which is characterized by a beautiful natural landscape, silence and tranquility. How good and calm it is here, that I want to return again for such a vacation, to escape from the noise of the city. The territory of the sanatorium is a real forest, everything is very green and shady.
The rooms in the sanatorium, although small, are comfortable and cozy. The medical base of the Pine sanatorium is very large and equipped with modern diagnostic and medical equipment. It has its own pump room with mineral water, mud baths from Saki Lake, a spa complex and much more.
Review by Maxim G .:
I had to rest in the sanatorium of the Ministry of Internal Affairs of Belarus "Belaya Rus". Very pleased with the hospitality and good attitude towards the guests. The sanatorium has 2 buildings, which are interconnected by transitions. There is also a swimming pool where you can swim. For outdoor activities, there is a mini water park or a sports gym.
I liked everything very much:
The rooms are clean, linens are changed regularly. Everything is very comfortable.
The medical staff is very qualified and responsive.
Food at home.
Rest and recreation is just super.
Read all reviews about treatment in Belarus
Health resorts of Belarus with treatment
Shishkevich Vladimir
Orthopedic doctor, traumatologist
I have been treating joints for many years. I can say with confidence that the joints are always treatable, even in the very ripe old age.
Hondrostrong is an innovative drug that is created to combat joint diseases. It helps with arthritis, arthrosis and other diseases. Thanks to the use of cream, joint mobility quickly returns. Damaged cartilage tissue is regenerated, which prevents the further development of the problem.
Our medical center was the first to receive certified access to the latest drug for osteochondrosis and joint pain -
Hondrostrong
. I confess to you when I heard about it for the first time, I just laughed, because I did not believe in its high efficiency. But I was amazed when we completed testing: 4567 people were completely cured of diseases of the organs of the musculoskeletal system, and this is more than 94% of all subjects. 5.6% felt significant improvement, and only 0.4% did not notice any improvement.
Hondrostrong cream allows you to forget about back and joint pain in the shortest possible time, literally from 4 days, and even very difficult cases can be cured within a couple of months. In addition, the manufacturer of this product is now offering a
50% discount
of the full cost of this medication.