List of sanatoriums where joints are treated – rheumato >
Hello, in this entry I am collecting an updated list of sanatoriums where rheumatoid arthritis is treated and indeed all joint problems. The list is compiled by me personally, after studying the reviews of vacationers and undergoing treatment courses. Of course, I do not pretend to be completely objective, but nevertheless I'll try to at least just put in a row all the more or less well-known medical institutions.
Of course, first of all, the sanatoriums of Kislovodsk, and indeed the Stavropol Territory, will be on the list. There are no options, since the base there is very strong, and the experience of the doctors is truly enormous. At prices I can say that this is from 5000 to 7000 thousand rubles. per day for 2016. Many or few, I can't judge. Since everyone has different incomes, those who can afford a sanatorium will definitely go. The question is where exactly. Here are the addresses:
Sanatorium "Beshtau" – Stavropol Territory, Zheleznovodsk, ul. Semashko, 33. They treat many different diseases, including problems of the musculoskeletal system, such as arthrosis, arthritis, synovitis, myositis, dorsopathy.
Sanatorium "Solnechny" – Stavropol Territory, Kislovodsk, ul. Kuybysheva, 66. They treat diseases of the musculoskeletal system, musculoskeletal system, as well as problems in the connective tissues. Engaged in osteochondrosis, arthritis, rheumatism, intervertebral hernia. And in general to all that relates to joints.
Joint treatment in the sanatorium Rus, Essentuki
A distinctive feature of the Rus resort in Essentuki is the provision of the widest range of medical services at the level of international standards. Own diagnostic base of the sanatorium-resort complex makes it possible to undergo a complete medical examination, on the basis of which the patient receives an opinion on the state of health and a personal sanatorium treatment program.
SKK "Rus" is located in Essentuki – Caucasian Mineral Waters – one of the most effective medical resorts in Russia and Eastern Europe. The complex managed to combine comfortable living and the unique healing properties of the nature of the region.
Address of the sanatorium: Stavropol Territory, the city of Essentuki, 16 Pushkina Street
Phone 8-800-555-89-04 call in the Russian Federation – free
For the best treatment of rheumatoid arthritis in Russia, the following institutions should be considered:
With mud and sodium chloride waters: Zelenogradsk, Lake Medvezhye, Lipetsk, Sarkivevsky Mineralnye Vody, Pyatigorsk, Elton, Totma, Uvildy.
With hydrogen sulfide waters: Khilovo, Klyuchi, Sernovodsk-Caucasus, Sochi.
With radon baths: Pyatigorsk, Belokurikha, Urguchai.
With nitrogen waters: Nachiki, Talaya, Kuldur.
With iodine-bromine waters: Ust-Kachka, Nalchik.
Here is a list of the most rated Kislovodsk resorts:
Sanatorium "Rodnik" *** – a powerful medical base, conveniently located right in the center of the park. Walking and fresh air.
Sanatorium "Horizon" is also a strong medical base and good location in relation to the entire infrastructure.
Sanatorium "Victoria" *** – recognized as the best in terms of price / quality, the most popular according to reviews.
Sanatoriums of the Middle Strip of Russia
Sanatorium near Moscow under the Office of the President of the Russian Federation, in the Domodedovo district of Moscow.
Treat: osteoatrosis, rheumatoid arthritis, post-traumatic arthrosis-arthritis, rheumatoid arthritis, osteochondropathy, infectious and psoriatic arthritis, infectious-allergic arthritis, postoperative condition, arthralgia, meniscitis.
Sanatorium "Staraya Russa", in the Novgorod region
Treat: diseases of the musculoskeletal system (musculoskeletal system), arthritis and polyarthritis. Rheumatoid arthritis is not higher than the 2nd degree of activity without visceral manifestations, gout, all kinds of arthrosis, consequences of limb trauma, scoliosis, spondylosis, spinal osteochondrosis, spondylitis (ankylosing spondylitis), myositis, synovitis, bursitis, osteoporosis.
The sanatorium is interesting because old Russian therapeutic mud, sulfide-silt with the content of iron sulfide, bromine, which have anti-inflammatory, antispasmodic, analgesic, disinfecting properties, improve blood circulation and metabolic processes are used for treatment.
Sanatorium "New source", 20 km from Vologda
Specializes in: treatment of the musculoskeletal system, intervertebral hernia, osteochondrosis, scoliosis, arthrosis, arthritis, rehabilitation after joint replacement.
Suggested treatment: balneotherapy – coniferous, mineral, pearl baths; hydrotherapy – Sharko shower, massage shower, sauna therapy.
Sanatorium in the district center of Sapozhok Ryazan region
It is notable for the fact that the mud there is really healing. The Boot is an excellent treatment, although there are problems with living, but you can rent an apartment in the private sector, it's not expensive, but they treat mud, people travel every year, twice a year, they really like it and the benefits of joints are observed.
Sanatorium Pirogova in Crimea in the city of Saki
Saki Resort is the oldest balneo-mud resort in Europe, officially existing since 1827. Saki sanatorium Pirogova is the largest and most famous health resort of Saki in the Crimea. The sanatorium is widely known in Ukraine, Russia, countries of Europe and Asia. He gained his fame thanks to the unique natural factors of the resort of Saki (Crimea) – healing mud, brine (salt brine), thermal mineral water. The territory of the health resort borders on three lakes: salt (a source of medicinal mud and brine), fresh and buffer, being a round-the-clock natural inhalation and aeration.
Sanatoriums of Belarus
Separately, I will say about our sanatoriums that specialize in the treatment of joints.
The best include the sanatoriums "Radon" and "Energetik" of the Grodno region, "Bug" and "Trunk" of the Brest region, "Pridneprovsky" and "Golden Sands" of the Gomel region.
Placed in an ecologically clean zone, in the far corner of the Belarusian Polesie. At the same time can take 260 people. The rooms here with all amenities, mainly double, there are superior rooms.
Arthritis, arthrosis, scoliosis, osteochondrosis are treated here. Vacationers are accepted here for any number of days, but the recommended period is a period of 12 to 21 days.
Sanatorium "Golden Sands"
Founded in 1970, the Golden Sands sanatorium is located in a mixed coniferous-deciduous forest in the territory of the Gomel region. The basis of the treatment is mineral baths and sapropelic mud, which is prescribed in the form of wraps, wraps, applications. Dry carbon dioxide baths, underwater horizontal traction, massages are also used. Climatotherapy also has its positive effect, which is based on clean air saturated with coniferous essential oils.
The sanatorium "Porechye" specializes in the treatment of diseases of the musculoskeletal system, located in the Grodno region on the shores of Lake Milk. It is surrounded by a mixed very beautiful forest. "Porechye" is popular among vacationers also due to its favorable location. Close to it is a large transport hub – the city of Grodno, which makes the path here simple and quick.
The main types of treatment here are based on the use of mineral baths and sapropelic mud. In addition, reflexology, electrotherapy, magnetotherapy, underwater massage, dry carbon dioxide baths are used.
At the disposal of the sanatorium-room fund of 260 beds. Moreover, the rooms are single and double. It is possible to check in here together with children from the age of 5 years.
List of sanatoriums where joints are treated – rheumato >Good afternoon! You have a wonderful blog, we would like to decorate it with our unique and interesting articles.
This is not an advertisement. The content of the articles is informative in nature about sanatoriums, about how and where to buy and order . about how to reduce the budget and much more. This is information for tourists, which can lead to the right decision.
At the end of each article, the name of the writer and the agency's website will be indicated.
Is it possible
Lana, this is impossible, I do not post other people's materials, even of an informational nature.
Please tell me how to find out which sanatorium is better to choose (all have useful waters and muds of different composition)? Or can you choose any of the presented in the article? Our doctors do not give any advice on the direction of healing sources.
Shishkevich Vladimir, orthopedic and traumatologist, project editor-in-chief ExpertNews.

I have been treating joints for many years. I can say with confidence that the joints are always treatable, even in the very ripe old age.

Hondrostrong is an innovative drug that is created to combat joint diseases. It helps with arthritis, arthrosis and other diseases. Thanks to the use of cream, joint mobility quickly returns. Damaged cartilage tissue is regenerated, which prevents the further development of the problem.

Our medical center was the first to receive certified access to the latest drug for osteochondrosis and joint pain - Hondrostrong. I confess to you when I heard about it for the first time, I just laughed, because I did not believe in its high efficiency.

But I was amazed when we completed testing: 4567 people were completely cured of diseases of the organs of the musculoskeletal system, and this is more than 94% of all subjects. 5.6% felt significant improvement, and only 0.4% did not notice any improvement.

Hondrostrong cream allows you to forget about back and joint pain in the shortest possible time, literally from 4 days, and even very difficult cases can be cured within a couple of months. In addition, the manufacturer of this product is now offering a 50% discount of the full cost of Hondrostrong cream.
Add a comment Отменить ответ
About me and the site
Have a nice day! My name is Vladimir Koval, on this site I am going to a collection of recipes for the treatment of joints and joint pain. Collect bit by bit, sifting out unnecessary and empty information. In part, I myself try these recommendations on myself. After all, human life, especially after 30 years is full of surprises in the form of backache, pain in the knees and elbows. Anyway, man is a very fragile mechanism.
Therefore, I want to not only preserve treatment recipes for myself, but also to share my experience and best practices with everyone. I live in Belarus, in the Vitebsk region, in a private house, with my wife and two children. Through this site I want to convey knowledge about healthy old age and mobile joints. I hope that my experience will be useful to you.
Saki sanatoriums for the treatment of arthritis
Most chronic diseases of the body are directly related to age-related changes. Until recently, it was customary to talk about "joint diseases" as diseases of the elderly. Unfortunately, in recent decades, problems with the functioning of the musculoskeletal system have arisen in those who are 35-40 years old, and even at a younger age. There are several main reasons: poor ecology; unbalanced nutrition; sedentary lifestyle or, conversely, excessive physical activity; complications after flu and sore throats.

What are dangerous joint diseases
Often patients do not pay attention to light crunching, slight pain, swelling. After some time, the symptoms may disappear, but the disease continues to develop, and they come to the doctor's appointment when they cannot lead the usual rhythm of life due to pain. Conventionally, all joint diseases can be divided into 2 groups:
inflammatory (ankylosing spondylitis, arthritis, spondylitis, polyarthritis, etc.);
dystrophic (arthrosis, spondylarthrosis, osteochondrosis).
The danger of diseases of both the first and second groups is that their development leads to organic changes in the musculoskeletal system, so treatment should be taken very seriously. In order to extend remission, consolidate the results of the inpatient and outpatient courses, and prevention, doctors recommend rest in specialized sanatoriums.
Most sanatoriums of the Ministry of Defense of the Russian Federation are diversified health resorts. The specialized health resorts that are most suitable for the treatment of joint diseases by climatic and resort factors include:
Sanatorium "Aurora" (Sochi): hydrogen sulfide, turpentine baths; underwater traction of the spine; naphthalan therapy; manual therapy; physiotherapy.
Sanatorium "Chemitokvadzhe" (Sochi): mud therapy; bathtubs using medical gases; complex hydropathy; therapeutic massage, physiotherapy.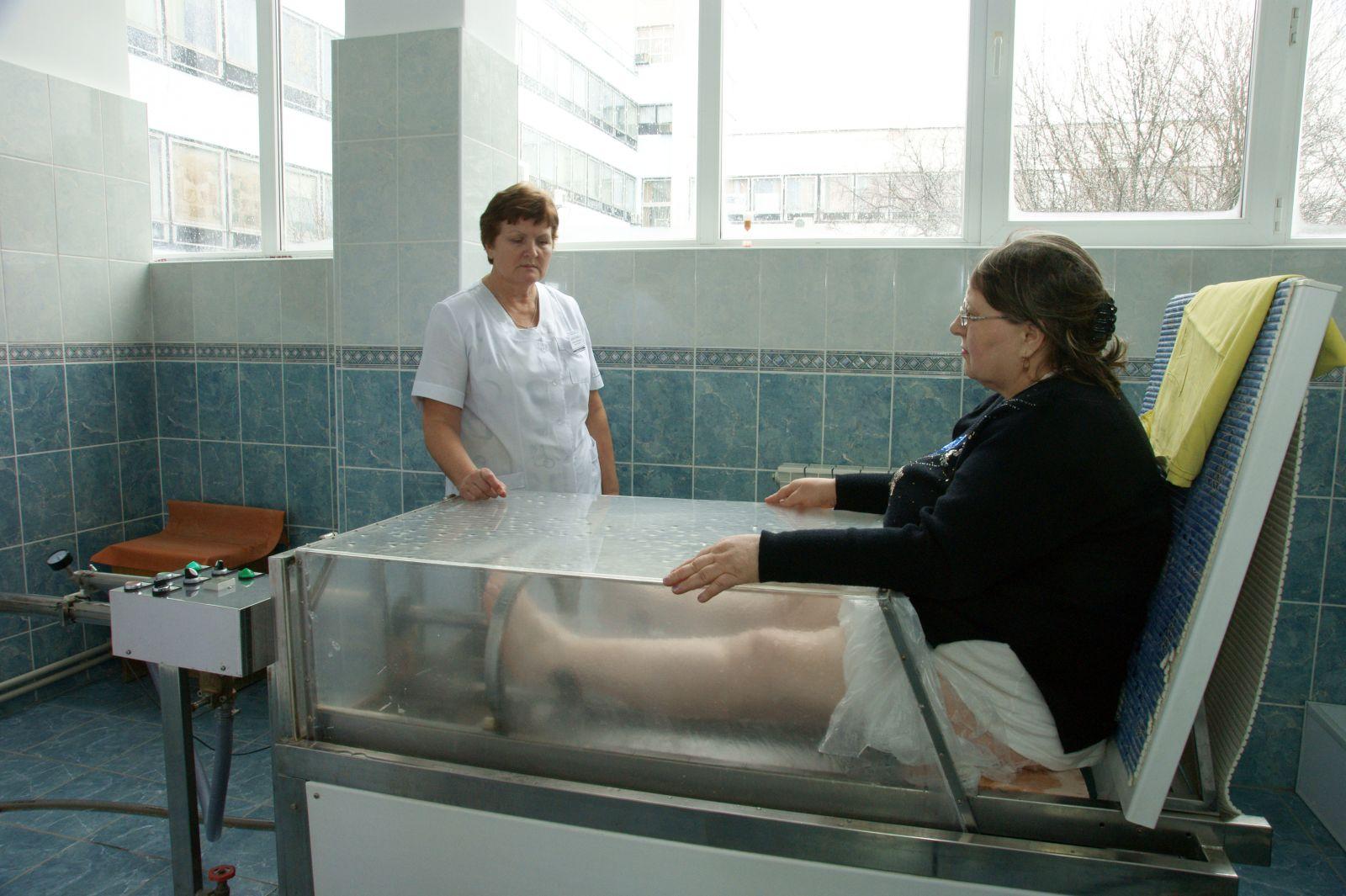 Eupatoian Military Children's Clinical Sanatorium named after E.P. Glinka: surgical treatment using implants "Tutoplast" of the German company "Tutogen"; hydrokinesitherapy; underwater traction of the spine; Mud therapy with native mud of Lake Saki, etc.
Sanatorium Crimea (Alushta): mud therapy with imported mud from Saki Lake; massotherapy; spinal traction; physiotherapy.
Sanatorium "Zvenigorod" (Zvenigorod): mud therapy using peat peloid; paraffin-ozocerite applications; turpentine baths; physiotherapy.
Sanatorium "Slobodka" (Tula region): mud therapy using peat peloid; baths using local mineral water; manual therapy; massotherapy.
Sanatorium "Solnechnogorsk" (Solnechnogorsk): mud therapy with the use of Tambukan mud; ozokerite; massotherapy.
Sanatorium "Zolotoy Bereg" (Anapa): mud therapy with the use of the peloid of the Kiziltash estuary; hardware massage; physiotherapy.
Sanatorium "Chebarkul" (Chebarkul): mud therapy with the use of sapropels of Lake Bolyash; carbon dioxide baths; massotherapy; underwater shower massage.
Sanatorium "Svetlogorsk" (Svetlogorsk): mud treatment using peat mud of the Gorelooye deposit; dry carbonic and radon baths; spinal traction; physiotherapy.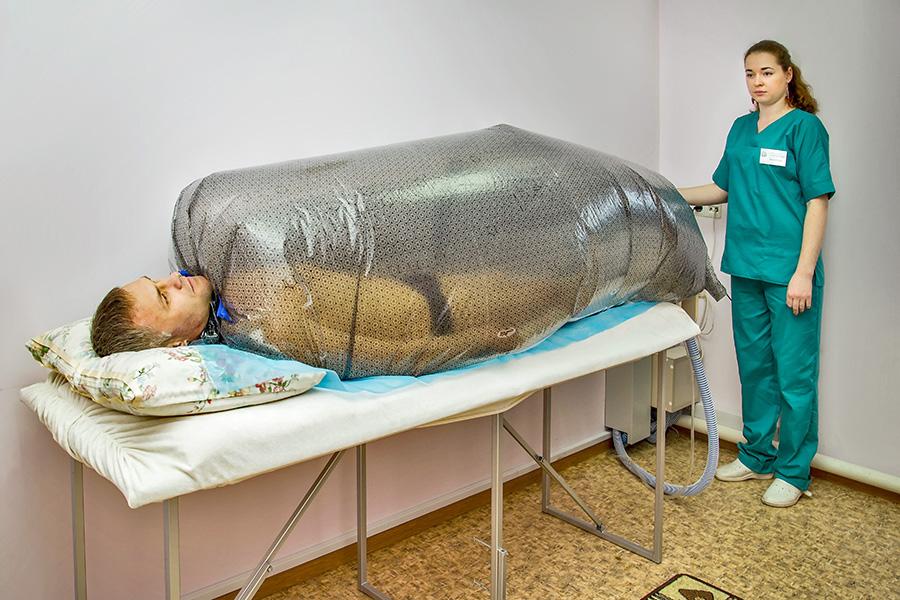 Sanatorium "Ocean" (Vladivostok "): mud therapy using peloid of the Sea of ​​Japan; massotherapy; therapeutic baths.
Sanatorium "Khabarovsk" (Khabarovsk): sulphide-silt and peat mud; turpentine baths; heat therapy; massage.
Sanatorium "Paratunka" (Kamchatka): sapropels of Utinoe Lake; nitrogen-silicon thermal waters; local creotherapy; physiotherapy.
Treatment of joint diseases in the Saki Military Clinical Sanatorium named after Pirogov.
Nevertheless, the Saki health resort is the first in the treatment of ODA diseases among military sanatoriums. This is explained by the presence of unique natural factors (dirt and brine of Saki Lake), and the proximity of the Black Sea, and almost two centuries of history, and work with the Military Medical Academy. Kirov, and the active introduction of innovative technologies.
If everyone is familiar with traditional spa methods of treatment, then we will dwell on innovative technologies in more detail.
Computerized traction therapy in mineral water is recommended for neurological manifestations of osteochondrosis and spinal diseases. The therapeutic effect is achieved by reducing intradiscal pressure. Traction is carried out in vertical and horizontal directions. The effect is observed after the 1st procedure.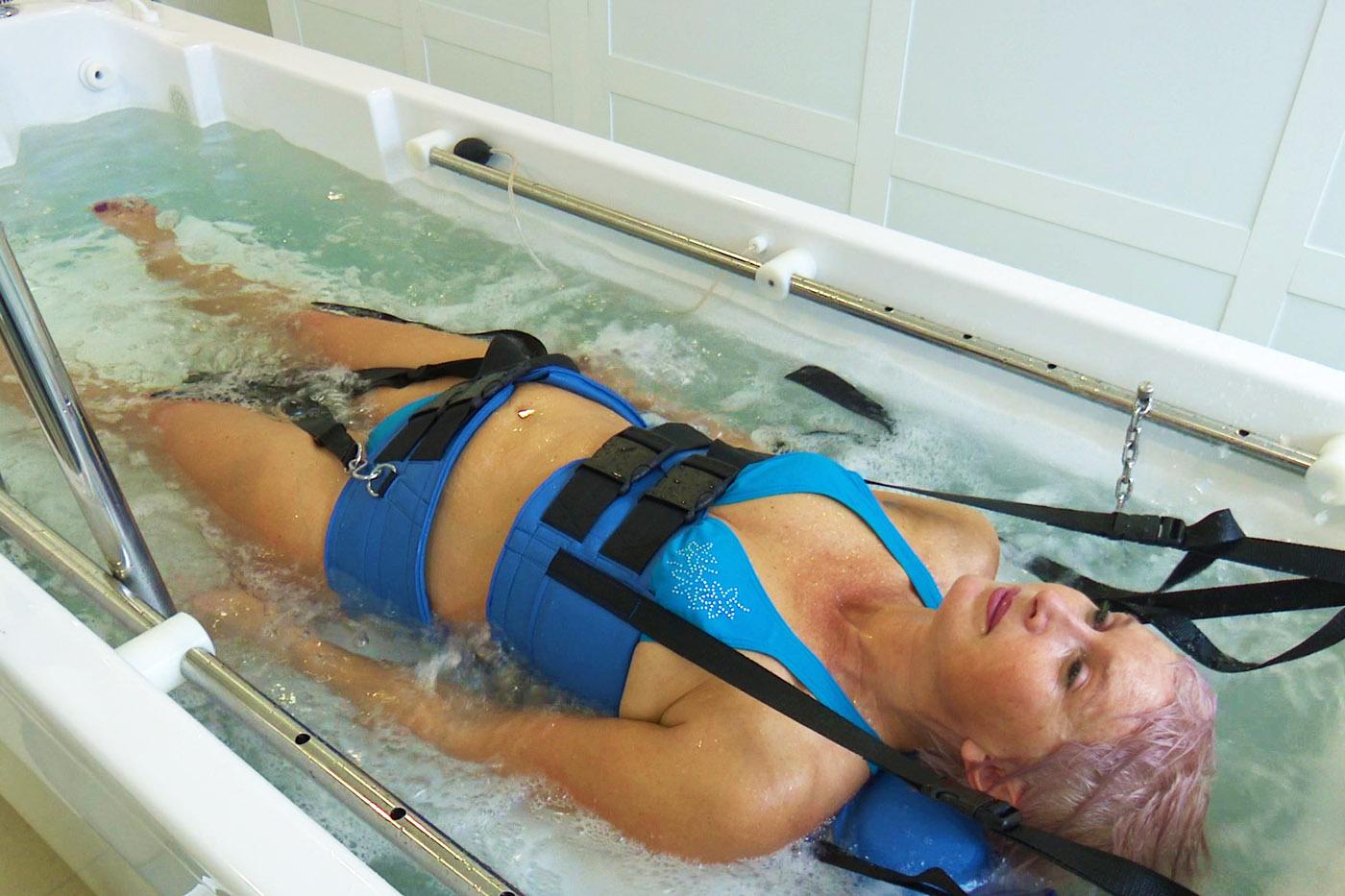 Passive kinesitherapy using the Ormed-kinezo apparatus is used to treat kyphosis of the vertebrae and osteochondrosis. Spinal traction occurs in a gentle passive mode; the amplitude and angle of flexion / extension are selected indiv >
Reconstructive surgery has the following goals: elimination of a spinal defect in scoliosis; elimination of joint contracture; compensation for postoperative complications; restoration of joint function with the replacement of functionally unsuitable elements (arthroplasty).
And, of course, one should not forget about peloid therapy. Saki mud is far superior to the widely advertised Dead Sea mud. The advantage of their application is that they are delivered to the mud bath directly from the field, that is, they are not subjected to conservation. For the preparation of applications, the brine of Saki Lake is used, which enhances the healing effect.
According to the monitoring commission, long-term improvement occurs in 95-97% of patients of the Saki sanatorium with joint diseases. Annual courses result in complete cure or persistent remission.
Download the table of vacant places in sanatoriums for 2020
Joint treatment in the sanatoriums of Crimea
Why is joint treatment in the sanatoriums of Crimea considered effective? Because here you can undergo comprehensive treatment and get rid of such joint diseases as arthritis, arthrosis, polyarthritis. Sadly, various kinds of joint pathologies are increasingly found not only among the elderly, but also among young people. Moreover, the problem may concern those who lead an active lifestyle – this is facilitated by sports injuries, excessive stress, improperly selected shoes, etc.
The sooner the pathology is diagnosed – the faster you can start treatment in a sanatorium and the more favorable the prognosis for recovery. Moreover, it is better if the approach is comprehensive: drug treatment should be combined with restorative therapy.
Joint treatment in the sanatoriums of Crimea. Methods of treatment and prevention
Crimean sanatoriums offer both joint treatment and preventive measures to prevent these problems. Specialists of the medical institution will help you choose the right technique. The most popular are:
mud therapy. Most common in the sanatoriums of Yevpatoriya, where there are healing sources of mud. A universal remedy that beneficially affects the body as a whole, restoring youth and beauty. Often used in a heated form as lotions to a sore spot. Contraindicated only in inflammatory processes and oncology;
physical procedures (laser, ultrasound, current). Using special equipment, special frequencies are applied to the affected joint, restoring its structure, eliminating inflammation;
hydrotherapy. Swimming in the sea in warm weather, baths with various additives, showers, visiting the pool – all this has a positive effect and in the early stages can completely eliminate problems;
heat therapy. Warming should be prescribed with caution, since it is contraindicated in inflammatory processes and oncological diseases;
massages, darsonval – in each sanatorium different methods can be offered, depending on what the institution specializes in.
Indications for the spa treatment of joint diseases in Crimea
If treatment is required, then it can only be started after a specific diagnosis has been made. An examination is carried out before the person is sent to a sanatorium. The attending physician also gives recommendations regarding the necessary procedures. Often, sanatorium treatment is indicated for such pathologies:
osteochondrosis. Often affects the intervertebral discs, gradually leading to the destruction of cartilage. Proper procedures help slow down the process and help restore cartilage;
scoliosis. It is most effectively treatable at an early age, so the sooner the treatment of scoliosis is started, the more chances there are to restore the normal position of the spine and return to a beautiful posture;
arthrosis. Gradual destruction of the cartilage, which in severe cases can pass to the bones, ligaments. The sooner treatment is started, the higher the likelihood of complete restoration of the cartilage. The selection of treatment is facilitated by the fact that there is no inflammatory process, therefore, there are no significant contraindications according to the methods;
arthritis. A generic term for joint inflammation. Treatment is prescribed with caution, avoiding overheating, massages;
polyarthritis. Inflammation of 3 or more joints. An integrated approach is required. Contraindications to procedures as with arthritis.
Joint treatment in Crimea. Which sanatorium to choose?
Choosing a sanatorium where it is better to go for treatment should be based on a number of key factors:
medical base of the sanatorium. It is important that the institution specializes in the treatment of the necessary pathology, and also can offer a set of necessary measures that are recommended;
location, living conditions, infrastructure. It is important for those who choose a sanatorium more for prevention and plan to combine procedures with relaxation, cons />
Sanatorium Northern Lights, Saki
Specializes in mud therapy. The advantage of the sanatorium is in close proximity to the therapeutic Saki Lake and the seashore, which makes it easy even for people with severe diseases of the musculoskeletal system.
Sanatorium Poltava, Saki
Special programs for senior citizens, trips to the New Year, preferential conditions – all this allows you to combine relaxation with treatment, arriving at any time of the year. It specializes in the treatment of various diseases, so you can immediately choose therapy for the treatment of several diseases.
Sanatorium them. Pirogova, Saki
A military sanatorium specializing in the treatment of many pathologies for many years. Therapy is based on mud therapy, the use of own mineral springs. Allows you to combine rehabilitation, treatment with excellent relaxation. One of the most picturesque places in the region. It is possible to take a preferential ticket.
Children's sanatorium them. N. Krupskoy, Evpatoria
Specialized institution for the treatment of children. Equipment, techniques are specifically designed for working with children.
A large selection of Crimean sanatoriums specializing in the treatment of joints will allow you to receive appropriate treatment and prevent relapse.
Indications and contraindications for treatment
Indications for treatment in the sanatorium "Saki":
– Arthritis, polyarthritis, arthrosis, osteochondrosis, osteoarthritis, osteitis, periostitis;
– Scoliosis, kyphosis, kyphoscoliosis, scoliosis of I and II degree, osteomyelitis, degenerative-dystoripheic changes;
– Ankylosing spondylitis (ankylosing spondylitis);
– Myositis, fibromyositis, synovitis, bursitis, tendovaginitis;
– Injuries and diseases of the musculoskeletal system, joints, ligaments, tendons;
– Postoperative complications, impaired motor activity of the body;
– Conditions after surgery on the spine, intervertebral discs, joints;
– Violation of posture (scoliosis, kyphosis, kyphoscoliosis), scoliotic disease of 1-2 degrees;
– Myelitis, the consequences of poliomyelitis;
– Hernias of the intervertebral discs (in the absence of severe pain);
– Condition after discectomy (not earlier than 3-4 months);
– Osteocondritis of the spine. Radiculitis (outside the stage of exacerbation);
– Treatment of prostatitis and impotence;
– Treatment of male infertility;
– Treatment of cystitis, urethritis, uric acid diathesis;
– Treatment of pyelonephritis;
– Nonspecific diseases of the kidneys and urinary tract;
– Epidymitis;
– Infertility due to chronic inflammatory diseases of the uterus, tubes, appendages, vagina, perimetritis, perisalpingitis, chronic salpingo-oophoritis (not at the stage of acute exacerbation!);
– Underdevelopment of the genitals, uterine deviation, adhesions in the pelvis;
– Hormonal infertility, miscarriage, ovarian hypofunction, menstrual dysfunction;
– Inflammation of the epididymis, inflammation of the prostate gland, prostatitis;
– Climax, frigidity;
– Metroendometritis, bacterial vaginosis, colpitis;
– Psoriasis;
– Chronic dermatitis;
– Eczema;
– Neurodermatitis.
Contraindications for treatment in the sanatorium "Saki":
– All diseases in the acute stage, chronic diseases in the stage of sharp exacerbation, complicated by acute processes;
– All sexually transmitted and skin diseases in acute and infectious form;
– Benign and malignant neoplasms;
– Diseases of vital organs in the stage of decompensation (irreversible disruption of life);
– Blood diseases at any stage;
– Rough pathology of the ECG;
– Hypertension II – V degree;
– All forms of tuberculosis in the active stage;
– Persons with disabilities of the I-III group who are not independently moving, needing accompanying care;
– Mental illness, all forms of drug addiction and chronic alcoholism;
– A history of stroke, heart attack, acute cerebrovascular accident;
– Type 1 diabetes;
– Septic forms of non-specific infectious polyarthritis;
– Polyarthritis with a progressive, deforming process with ankylosis, contractures, with irreversible changes in a number of joints that impede independent movement and self-care;
– Diseases accompanied by severe disorders in the motor sphere (paralysis that impede independent movement) and significant disorders of the functions of the pelvic organs;
– Amyotrophic atherosclerosis, multiple sclerosis;
– Syringomyelia, syringobulbia, parkinsonism;
– Chronic pyelonephritis with pronounced impaired renal function of various origins;
– Chronic osteomyelitis in the presence of large sequesters or a large foreign metal body in the osteomyelitis focus;
– Urosepsis;
– The dryness of the spinal cord with the phenomena of ataxia, cokexia and atrophy of the optic nerve;
– Consequences of severe skull injuries with significant loss of motor functions, with epileptiform seizures, mental disorders;
– Bronchiectatic disease, respiratory failure, emphysema, pneumosclerosis;
– Patients with severe disability requiring special treatment;
– General contraindications for treatment with balneological procedures, individual intolerance to the therapeutic components of Saki mud;
– General contraindications for mud therapy, BPH (prostate adenoma);
– With rectal polyps, hemorrhoids in the acute stage – rectal tampons are contraindicated;
– Polyps of the cervix;
– Fibromyoma, cystosis, polycystic ovary (any disease associated with the occurrence of benign or malignant tumors in the body);
– endometriosis;
– Uterine bleeding, bleeding erosion;
– Uterine hypoplasia of 3-4 degrees;
– Violation of the ovarian-menstrual function of the central genesis;
– Epilepsy, convulsive syndromes of any genesis;
– Multiple sclerosis;
– Parkinsonism and Parkinson's disease;
– Myopathy, myasthenia gravis;
– The active phase of the course of skin disease (in this case, the method of mud therapy can give an impetus to the unwanted development of the disease);
– Acute inflammatory skin diseases;
– Mycosis, infectious skin diseases, teleangloectasia;
– Age after 70 years.
Before going to the Saki sanatorium for mud treatment you need to go through:
– Clinical blood and urine tests;
– Chest x-ray (if more than 6 months have passed since the last X-ray examination);
– ECG, examination in a neuropsychiatric clinic (if there is a history of neuropsychiatric disorders)
– Inspection of the attending gynecologist or urologist.